10 Best Cryptocurrencies to Invest in for 2022
January 7, 2022 by CoinSurges
486
The cryptocurrency market has had a rough opening

The cryptocurrency market has had a rough opening to 2022. Its total cap has fallen by 2% in the past 24 hours, to $2.12 trillion. Most major coins have dropped along with it, with bitcoin (BTC) and ethereum (ETH) declining by 1.5% and 4.4%, respectively. However, while the overall market has slipped by around 14% in the past month, the start of a New Year offers the opportunity for a fresh bull market. Accordingly, we've put together a list of the 10 best cryptocurrencies to invest in for 2022.
Get best and latest bitcoin news today with coinsurges.
10 Best Cryptocurrencies to Invest in for 2022
1. LuckyBlock (LBLOCK)
LuckyBlock is a soon-to-be-launched cryptocurrency that provides a blockchain-based lottery. Developed by UK-based companies Finixio and The Manc Group, LBLOCK tokens enable holders to purchase tickets for daily lottery draws held on the LuckyBlock blockchain. By conducting draws on this chain, LuckyBlock will make the distribution of jackpots and prizes completely transparent.
Running on the Binance Smart Chain, the LuckyBlock platform chooses lottery winners using a random number generator. 70% of each day's lottery fund — which varies according to how many tickets LuckyBlock sells — goes to the winners, with 10% going back to $LBLOCK token holders, 10% going to charity and 10% back to LuckyBlock itself for marketing purposes.
The reason why LBLOCK is an interesting investment is that owning it grants holders a stake in the LuckyBlock lottery. According to LuckyBlock's own calculations, holders can expect an annual dividend of around 25%. This is based on the assumption that 50% of holders purchase $5 of tickets per day.
On top of this, growing demand for the LuckyBlock lottery will inevitably push up LBLOCK's price. The coin has a max supply of 100 billion LBLOCK, with 55% of this allocated to a combination of LuckyBlock's partners, development team, private sale, presale and pinksale.
Note: Check breaking stories and Latest Cryprocurrency News with coinsurges.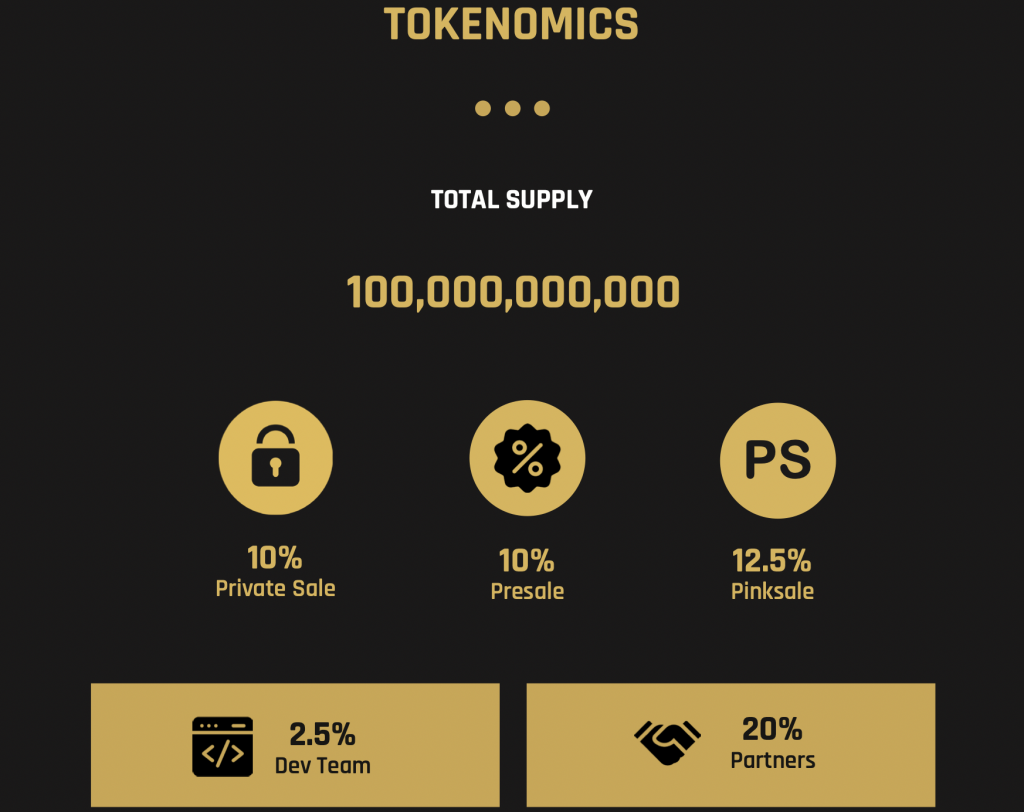 LBLOCK's presale has now opened on the LuckyBlock website, with more info on its Telegram. Investors can buy 1 LBLOCK for 0.0000002418 BNB during the sale, with a minimum contribution of 0.16 BNB and a maximum contribution of 400 BNB. It runs until February 1, at which point its public launch price will be 0.0000003061 BNB. After the presale, it will initially be tradable on the PancakeSwap decentralised exchange.
2. Bitcoin (BTC)
BTC is $42,548, having fallen as low as $40,600 a few hours ago. Its current price represents a 10% drop in the past week, and a 16% fall in the last 30 days.
Related: Check Live price, charts, and trading for the best cryptocurrencies like Bitcoin, Ethereum, Shiba Inu, Dogecoin etc.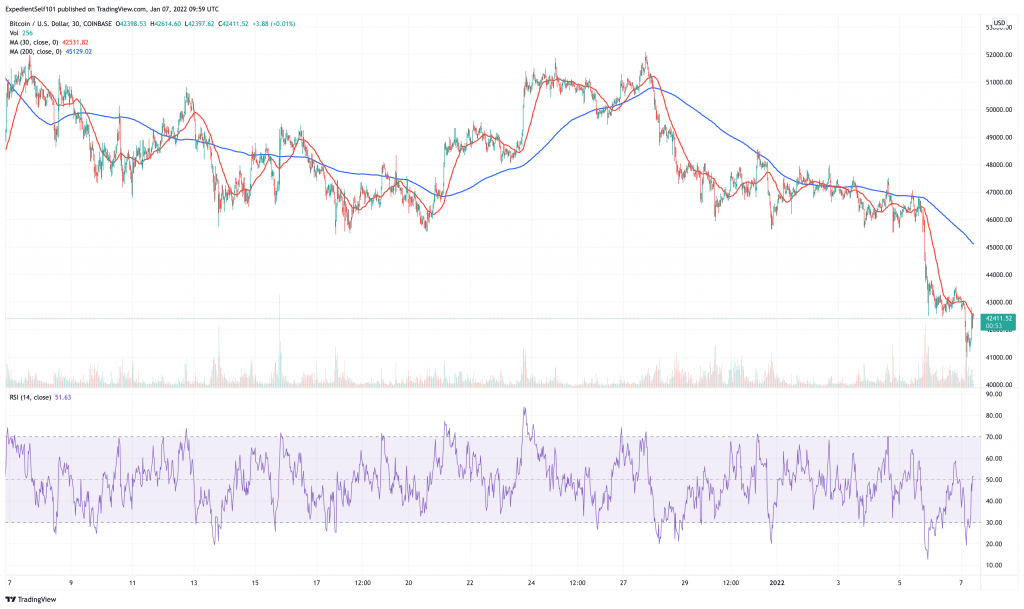 BTC's indicators show that it reached a bottom a few hours ago and is now regaining some momentum. Its relative strength index (in purple above) has risen from 20 to 50 in a short space of time. Likewise, its 30-day moving average has stopped its steep decline over the past couple of days.
Almost needless to say, BTC remains the cryptocurrency market's leader. Not only is it the biggest coin by cap, but it leads rallies and slumps. In other words, if you expect the market to have a good 2022, this means BTC will almost certainly have a good 2022 as well.
3. Ethereum (ETH)
At $3,255, ETH is down by 2.3% in the past 24 hours. This price also represents a fall of 12% in the past week and of 25% in the past month.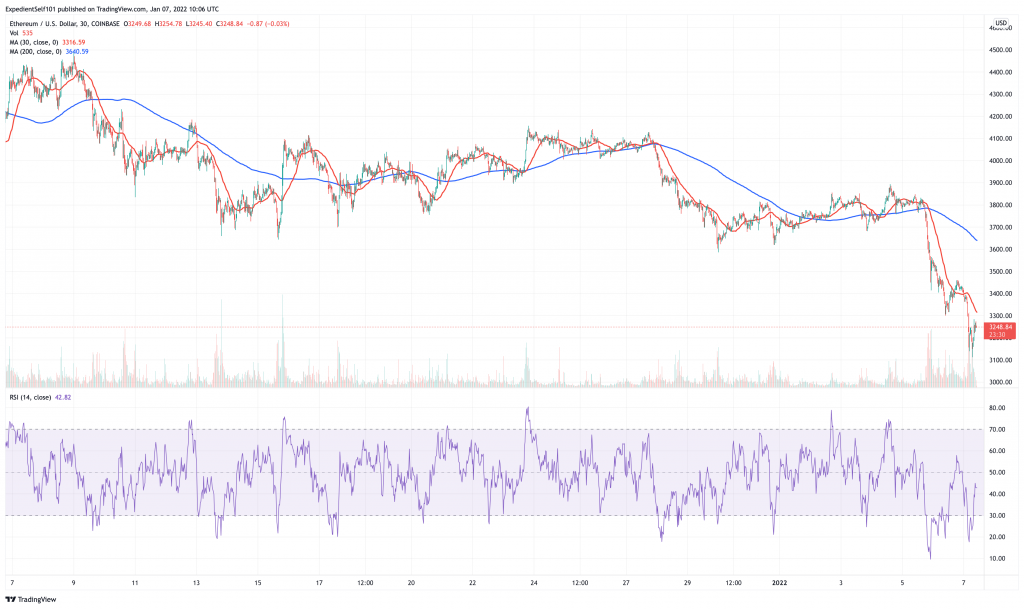 ETH's indicators also seem to have hit a bottom. Its relative strength index has shot up from just under 30 to around 45. This could indicate the start of a recovery.
Regardless of whether ETH recovers today or not, it has the best long-term prospects of pretty much any coin in the cryptocurrency market. It's awaiting its transition to a proof-of-stake consensus mechanism in either Q1 or Q2 of this year. This will increase its scalability considerably, while also reducing the high fees that helped its rivals gain market share in 2021.
Ethereum currently accounts for $147.3 billion in total value locked in, or 62% of the entire DeFi sector, a figure which is likely to increase in 2022. This is why ETH is one of the 10 best cryptocurrency to invest in for 2022.
4. Cardano (ADA)
ADA is actually 1% up in the past 24 hours, at the time of writing. At $1.23, however, it also remains 9% down in the past week and 17% down in the past fortnight.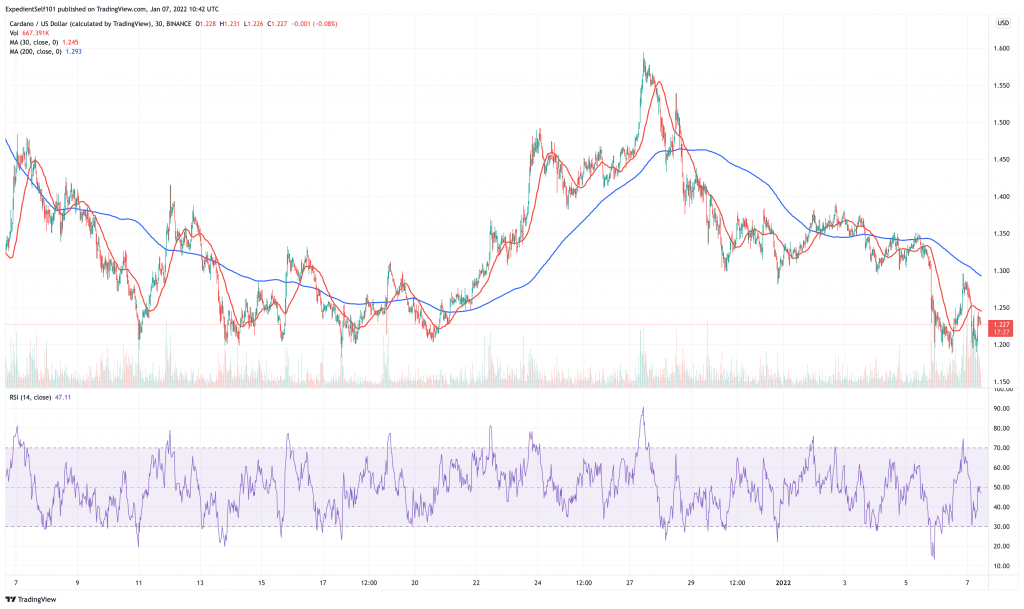 ADA's indicators are similar to BTC and ETH's, in that they also suggest a possible turning point. For instance, its 30-day average reversed its steep decline earlier this morning, and may indicate a recovery.
Either way, Cardano is set up nicely to have a big 2022. It rolled out smart contracts in September of last year, and since then its ecosystem has been steadily developing. Indeed, it has now registered some total value locked in. At $1.9 million, this is extremely modest compared to other big coins. But given that this figure stood at $0 only a couple of months ago, it suggests that Cardano's DeFi ecosystem could grow quickly this year.
Multiple #DeFi & #DApp projects have begun testing & will soon deploy on #Cardano. It is as exciting as it is hard to follow.

To help you keep track of who is #BuildingOnCardano check this ecosystem map by the @CardanoCube team and be sure to visit👇👏https://t.co/3RSAGRLZ5K

— Input Output (@InputOutputHK) January 6, 2022
5. The Sandbox (SAND)
Unlike most other top-1oo coins, SAND is up in the past 24 hours. At $5.02, it has increased by 4% in the last day, but has fallen by 15% in the past week. It's also down by 20% in the last 14 days.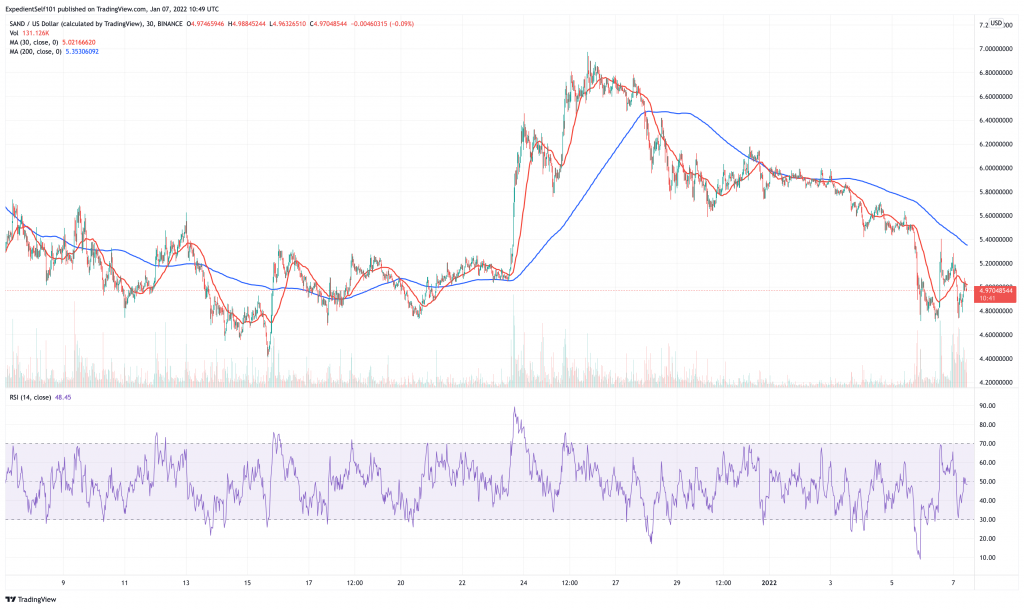 SAND's relative strength index has risen from 30 to 50 since the early morning, indicating growing momentum after a fall.
There are numerous reasons to think SAND will be one of 2022's best-performing coins. It had a very strong 2021, selling one plot of land for $4.3 million at the start of December. It also turned over $86 million in land sales in the last week of November alone, more than any other metaverse-related platform.
And with a $93 million raise from major VC fund SoftBank at the beginning of November, it's very well-positioned to continue growing. This is why, as the metaverse mania looks set to continue in 2022, it's one of our 10 best cryptocurrency to invest in right now.
6. Cosmos (ATOM)
ATOM is on the brink of breaking its all-time high. At $44.23, it has risen by 21% in the past 24 hours and by 3% in the past hour. It's also up by 82% in the last 30 days.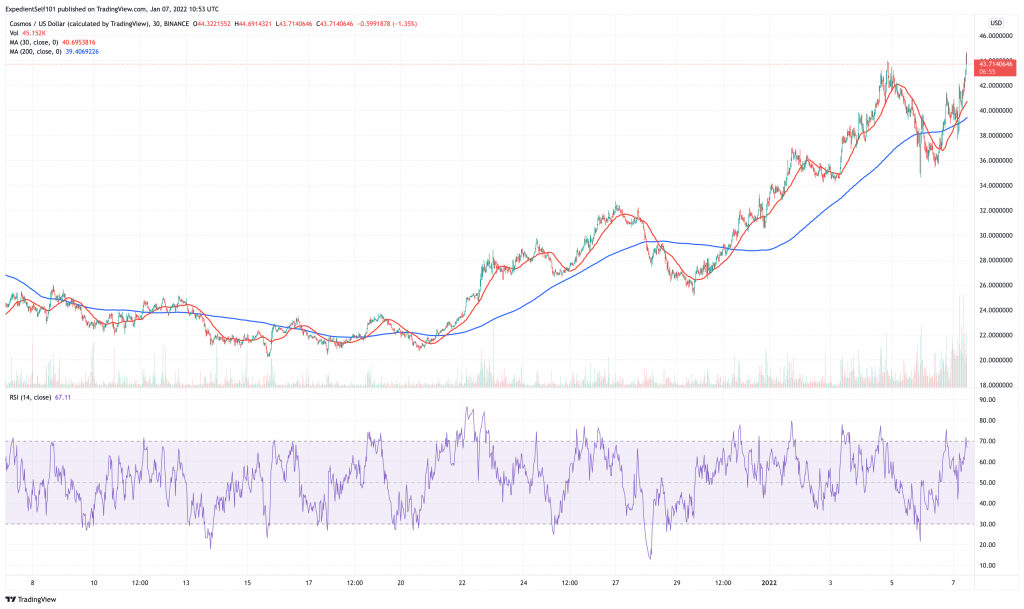 ATOM's indicators paint a very different picture to those for the overall market. Its 30-day average, save for a blip yesterday, has been rising steadily above its 200-day. Similarly, its RSI has now reached 70.
ATOM is rallying right now due largely to the launch of the Gravity Bridge. This is a bridge between the Cosmos 'internet of blockchains' and Ethereum. Unsurprisingly, it has opened up the Cosmos ecosystem to much greater liquidity, and spurred greater demand for ATOM. Indeed, Cosmos' total value locked in has more than doubled since the bridge's launch.
Get Ready Cosmonauts,

The time has come: The @gravity_bridge Chain to #Ethereum is LIVE🎉

Read more about Gravity Bridge Chain… https://t.co/VvhrGq3yLM
…and check the Stats on @mintscanio 👇 https://t.co/24AKcteDnk https://t.co/K2usfYIVmO pic.twitter.com/7AzkhFAyBt

— Cosmos – Internet of Blockchains ⚛️ (@cosmos) December 15, 2021
7. Polkadot (DOT)
DOT is down by 2% in the past 24 hours, dropping to $25.68. It's also down by 7% in the past week and by 15% in the past month.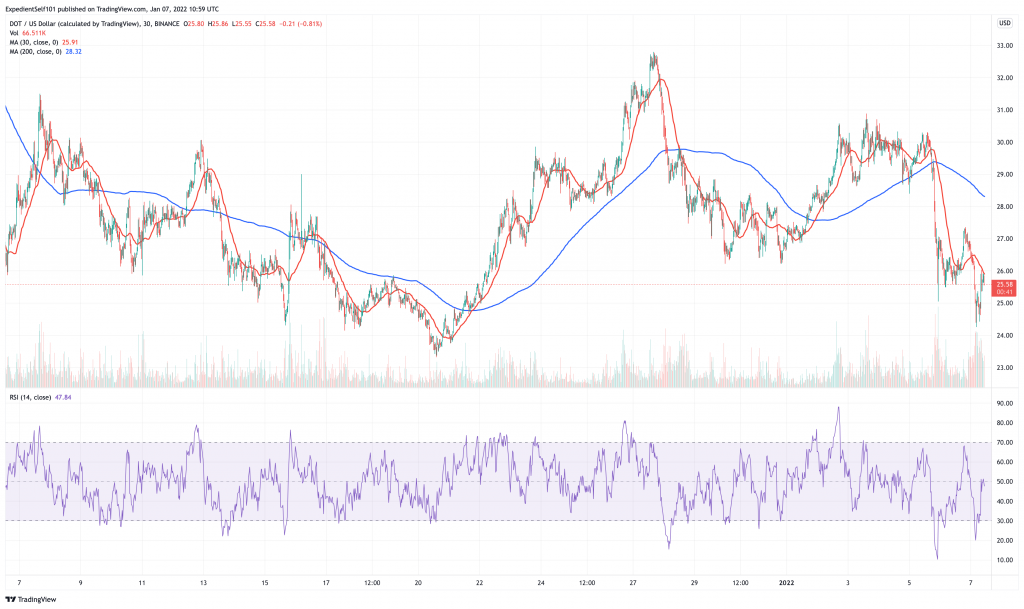 DOT is comparable to ADA. Both are native tokens of platforms which have been in gestation for a while but, thanks to recent developments, are primed to have a very good 2022. In DOT's case, its Polkadot platform has been holding weekly parachain auctions since the end of last year. These are auctions to determine which platforms will join the Polkadot chain, with interested parties having to lock up DOT in order to bid.
Most importantly, these auctions will result in Polkadot giving birth to its own ecosystem of applications. As with Cardano, the platform has registered a total value locked in for the first time in the past couple of months. This figure is very likely to grow as auction winners build their platforms on Polkadot and users begin using them.
8. Decentraland (MANA)
MANA is up by 11% in the past 24 hours, at $3.21. This price represents a 3% drop in the past week and a 16% decline in the last 30 days.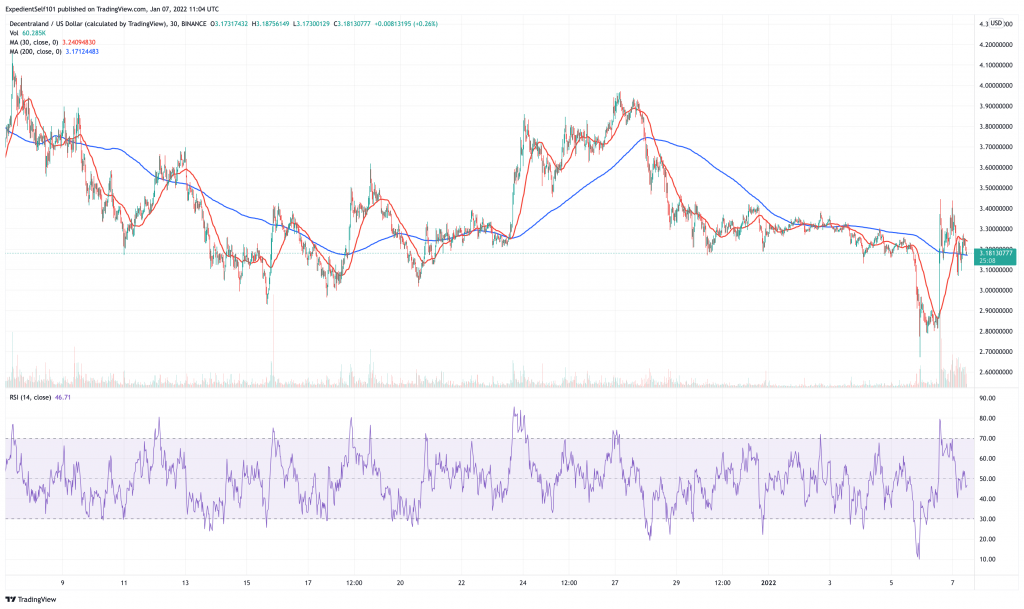 MANA's indicators show that it has turned a corner. Indeed, its 30-day average formed a 'golden cross' with its 200-day a few hours ago. This could suggest a breakout rally.
As with SAND, MANA is the native token for a blockchain-based open-world game. It has taken advantage of the current trend for the metaverse, with the coin rallying strongly following Facebook's announcement of its name change (to Meta) on October 28. Since then, it has witnessed an increase in usage and investment, with a partnership with the Australian Open being its most recent piece of positive news.
9. Avalanche (AVAX)
AVAX is currently priced at $90.15, representing a drop of 3.5% in the past 24 hours. It's also down by 11% in the past week, but relatively stable over the last 30 days.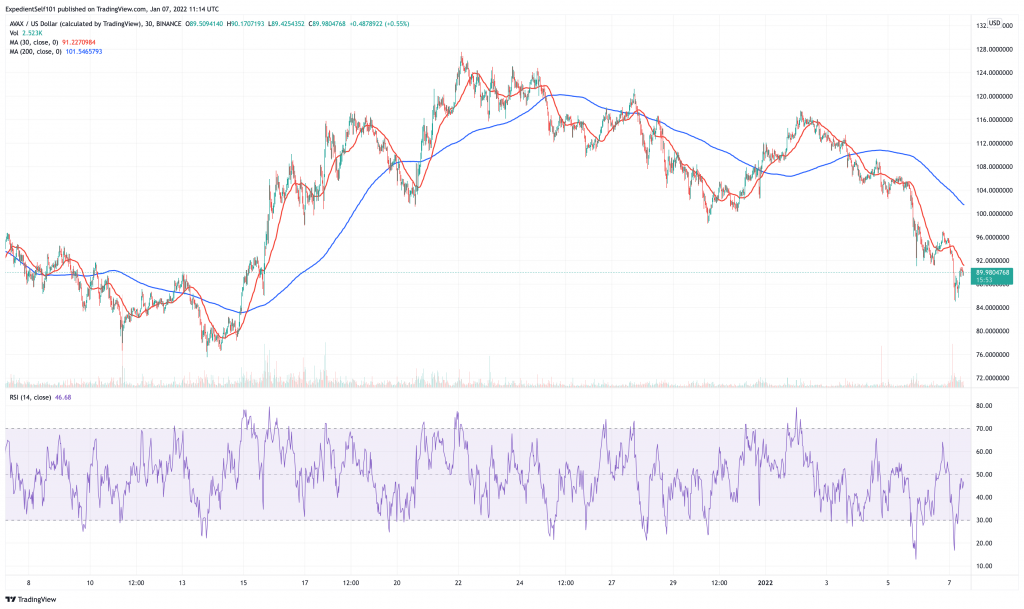 AVAX's indicators also suggest a turning point. Its RSI more or less hit rock bottom earlier this morning, while its 30-day average looks like it has fallen as far below its 200-day as it possible can. It may therefore be due a rebound.
AVAX's native platform, Avalanche, had a very good 2021. Yet given that it really only got going in the latter half of last year, we expect it to continue rising once the market recovers. Most notably, it attracted a $230 million investment in September from Polychain and Three Arrows Capital. Combined with its capped supply, token burns and lightning-fast proof-of-stake architecture, it easily justifies a place among the 10 best cryptocurrencies to invest in for 2022.
10. Ripple (XRP)
Ripple is up by 0.7% in the past 24 hours, having reached $0.763842. However, it's down by 9% in a week and by 23% in a fortnight.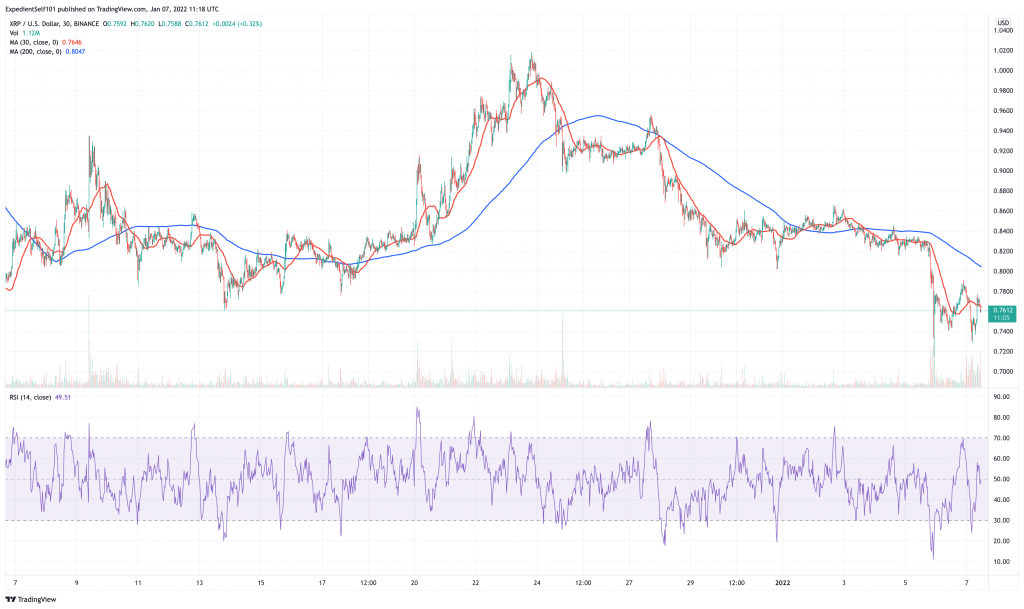 XRP is an interesting one. Compared to the other coins on this list, buying it is a particular risk, given Ripple's legal case with the SEC. That said, if Ripple wins this case or earns a favourable settlement, XRP will surge massively. This is why we've included, since reports from lawyers suggest that it has made good progress in fighting its corner. And given that it's 77% below its all-time high of $3.40 (set in 2018), it could rise vigorously.
Capital at risk
Read more:
How to buy Bitcoin
Guide to buying cryptocurrencies
How to buy Ethereum
How to buy Cosmos
Related: Coins Marketcap