5 Best Cryptocurrency to Buy on Low Prices January 2022 Week 1
January 4, 2022 by CoinSurges
181
The cryptocurrency market has slid downwards in

The cryptocurrency market has slid downwards in the past 24 hours. At $2.345 trillion, its total cap has sagged by 1%. Most major coins have fallen by similar percentages, with bitcoin (BTC) by 1.2% in the past day. However, while the continued downturn may be disappointment for parma-bulls, it provides plenty of opportunity for investors who like to buy coins cheap. As such, here are the 5 best cryptocurrency to buy on low prices right now. This covers coins priced at around $100 or less.
Get best and latest bitcoin news today with coinsurges.
5 Best Cryptocurrency to Buy on Low Prices
1. Cosmos (ATOM)
ATOM is one of a minority of top-100 coins to have risen in the past day and week. At $39.43, it's up by 4.6% in the past 24 hours and by 32% in the past week. It's also up by 82% in the last 14 days and by 40% in the last 30.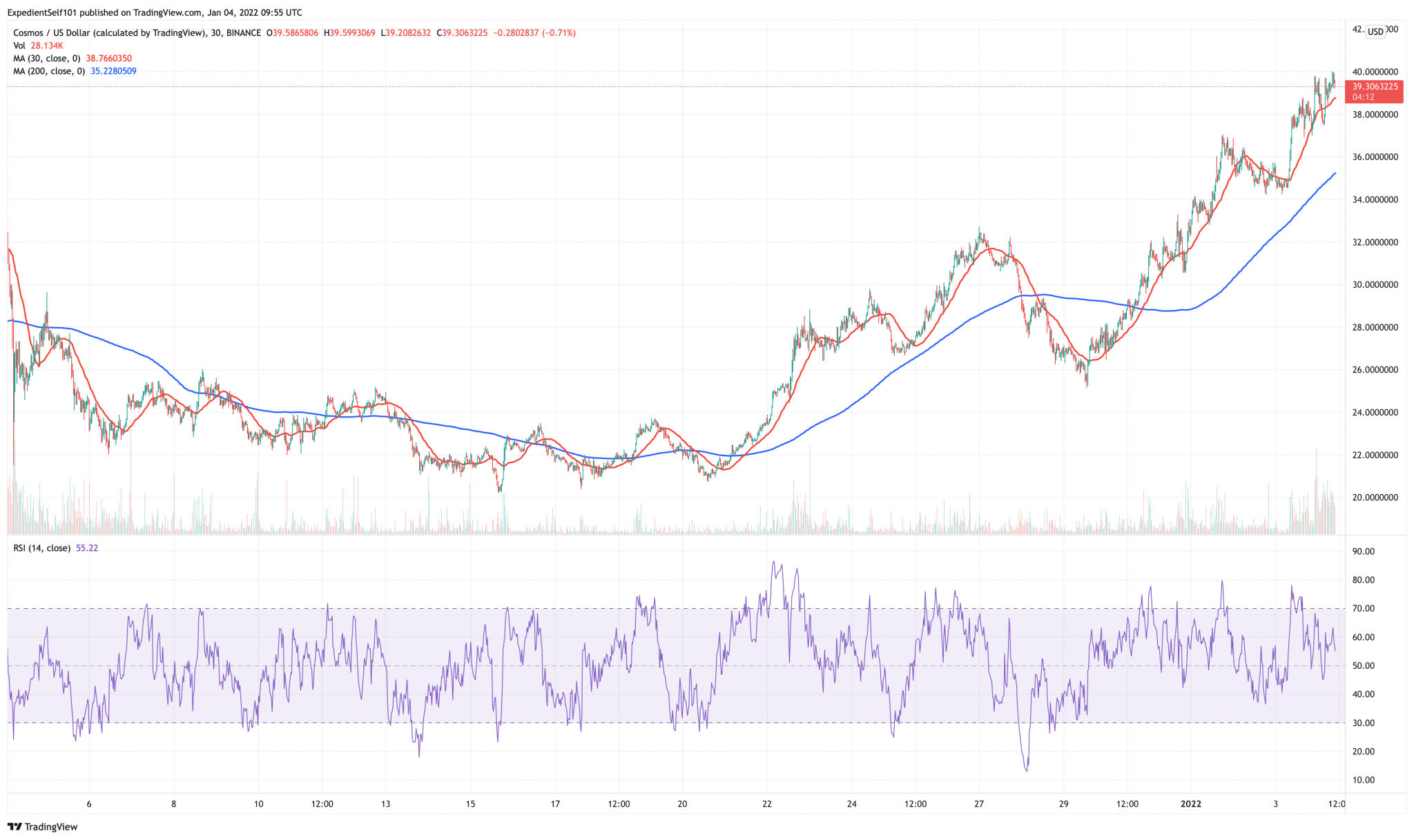 While the overall market missed a much-anticipated Christmas-New Year rally, ATOM has been on the ascendent ever since December 20. Its indicators remain strong, with its 30-day moving average (in red) continuing to rise above its 200-day average (in blue). This suggests that it's continuing to reach new, consolidated levels. At the same time, its relative strength index (in purple) remains at just under 60. This points to good momentum without the coin being overbought.
The main reason why ATOM is rallying now is the launch of the Gravity Bridge. This is a bridge between the Cosmos 'internet of blockchains' and Ethereum. Not only will this open up the Cosmos ecosystem to much greater liquidity, but it has got traders excited that Cosmos will now see much greater traffic going forward. We also expect ATOM to pass its current all-time high of $44.42, set back in September of last year.
Note: Check breaking stories and Latest Cryprocurrency News with coinsurges.
Get Ready Cosmonauts,

The time has come: The @gravity_bridge Chain to #Ethereum is LIVE🎉

Read more about Gravity Bridge Chain… https://t.co/VvhrGq3yLM
…and check the Stats on @mintscanio 👇 https://t.co/24AKcteDnk https://t.co/K2usfYIVmO pic.twitter.com/7AzkhFAyBt

Related: Check Live price, charts, and trading for the best cryptocurrencies like Bitcoin, Ethereum, Shiba Inu, Dogecoin etc.

— Cosmos – Internet of Blockchains ⚛️ (@cosmos) December 15, 2021
2. Fantom (FTM)
FTM is another major coin doing well in a drought. Its current price is $2.88, a 17% jump in the past 24 hours. It's also up by 31% in the last seven days and by 109% in the past fortnight. On the other hand, it remains 17% below its record high of $3.46, set on October 28.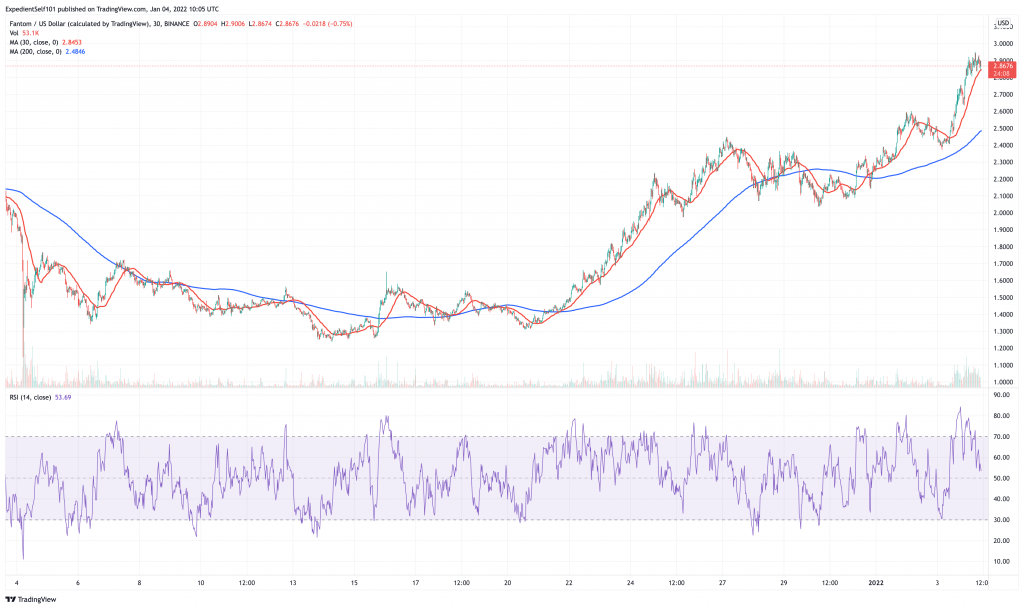 FTM's indicators are comparable to ATOM's. It has been climbing up since December 20, while its 30-day average is currently shooting above its 200-day. Likewise, its RSI is just below 60.
A smart contract platform, Fantom is quickly becoming a rival to Ethereum, Binance Smart Chain and other similar networks. Its native token, FTM, has risen by 13,000% in the past year. It has also reached $5.87 billion in total value locked in, up from just over $1.5 billion at the start of October.
In parallel, Fantom's ecosystem now includes over 200 projects and apps.. Given that FTM functions as a governance, staking and fee token within this ecosystem, its value will surely continuing seeing growth in the coming weeks. Particularly when it has a capped supply.
Fantom Ecosystem🚀@FantomFDN Ecosystem is over 200+ projects now, and it is just the beginning. Imagine when people are moving to #Fantom Opera because of its vast potentials. That won't be far away🚀#FTM #Fantom #BuildOnOpera $FTM pic.twitter.com/vYf4yO3ulU

— Fantom Daily (@fantom_daily) December 28, 2021
On top of this, Fantom has announced a steady stream of new integrations over the course of the previous year. Most recently, it now supports the USDC stablecoin, thanks to a partnership between Allbridge and Beethoven-x.
💪 $USDC is now available on @FantomFDN!

🔥 Together with our partners @beethoven_x we are bridging $USDC to #Fantom.

👇 Full details: https://t.co/PQj25NkrxY

— Allbridge (@Allbridge_io) December 23, 2021
3. DeFi Kingdoms (JEWEL)
JEWEL is one of the newer entrants into the market's top 100 coins (by cap). At $21.15, it's up by 2% in the past hour, and by 5.4% in the past 24 hours. It's also up by 45% in the last seven days and by 189% in the last 30. On top of this, it set a new all-time high of $21.17 only a few minutes ago (as of writing).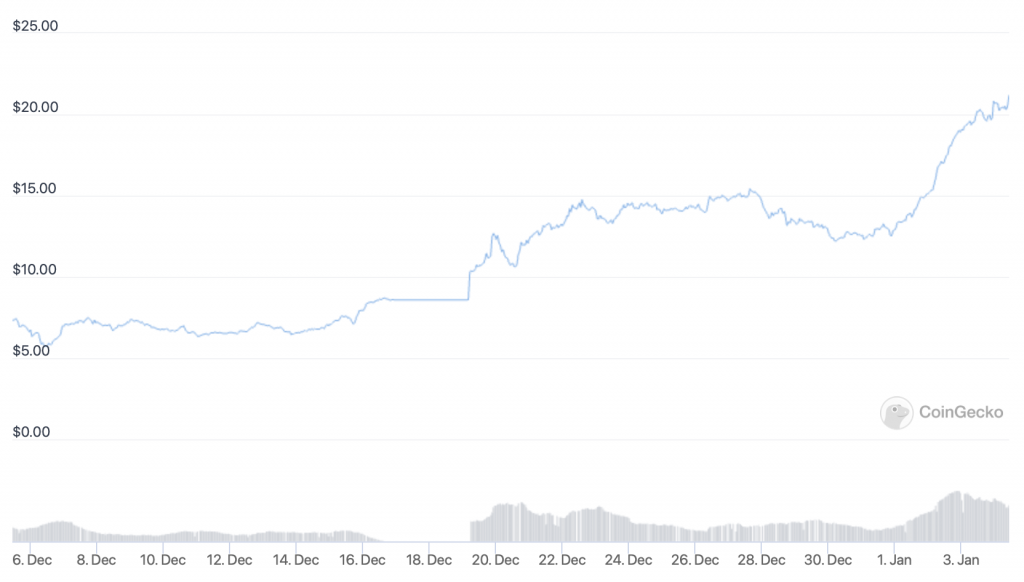 Built on the Harmony ONE, DeFi Kingdoms is a blockchain-based game that incorporates aspects of decentralised finance. It's comparable to Axie Infinity, with its playable characters also tradable as NFTs. However, it also incorporates its own decentralised exchange and liquidity pool, making it one of the more unique blockchain games around.
Investors can trade JEWEL on the Harmony One version of Sushiswap.
4. Shiba Inu (SHIB)
SHIB is now $0.00003293, a 2.7% fall in the past 24 hours. It's also down by 15% in the past week, and down by 10% in the past month.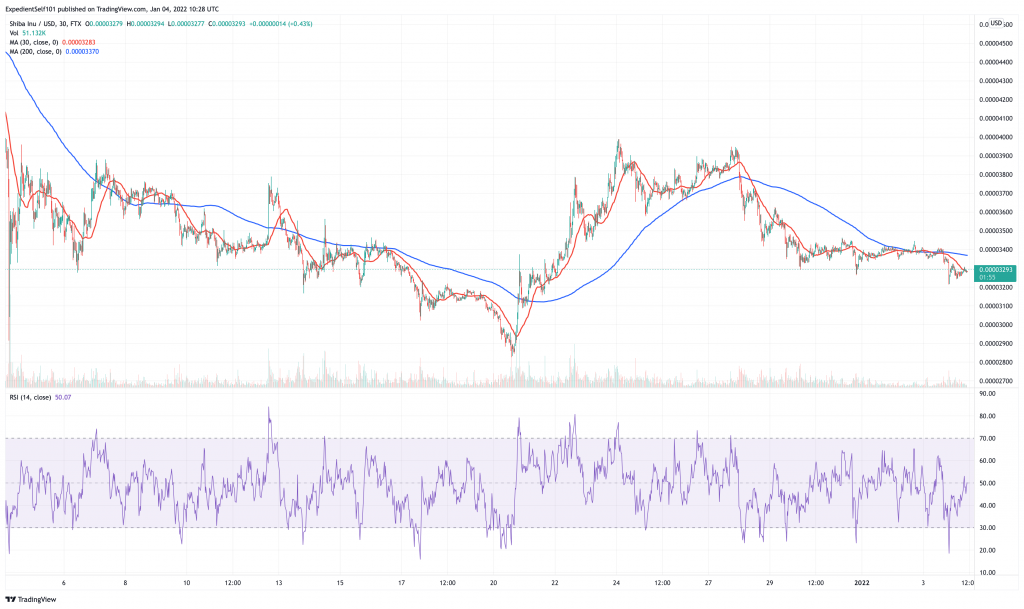 SHIB has been slumping for quite some time. Its 30-day average has been below its 200-day average since just after Christmas. Likewise, its RSI has been mostly below 50 during this period. In other words, if you believe that it's going through a cycle, it may be due for a surge in the coming days or weeks.
Alone with DOGE, SHIB is the market's most-loved (or derided, depending on your perspective) meme coin. Butt with a loyal community of followers, traders can never discount the possibility that it will rise strongly.
It also continues to grow, with the launch of the Doggy DAO its biggest recent event. This is a decentralised autonomous organisation that will enable SHIB holders to vote on governance proposals and the funding of SHIB-related projects. By opening up the Shiba Inu ecosystem to more community involvement, it could help to draw in more users.
DOGGY DAO is here. Woof!https://t.co/5sEZX50Z1j

— Shib (@Shibtoken) December 31, 2021
In addition, Shiba Inu wasn't without encouraging adoption news in 2021. In December, for example, BitPay announced that it would be supporting payments using SHIB.
ATTENTION: #shibarmy, we're excited to announce consumers can now pay and merchants can immediately accept Shiba Inu (SHIB) for payments. Read more: https://t.co/xnWbmqMdzX #SHIB #shibainu #crypto pic.twitter.com/zCretwh87S

— BitPay (@BitPay) December 9, 2021
This is why, despite its controversial reputation, SHIB is one of our 5 best cryptocurrency to buy on low prices.
5. The Sandbox (SAND)
SAND is down by 3.6% in the past 24 hours, after falling to $5.63. This represents a 13% drop in the past week, as well as a 6% slide in the past month.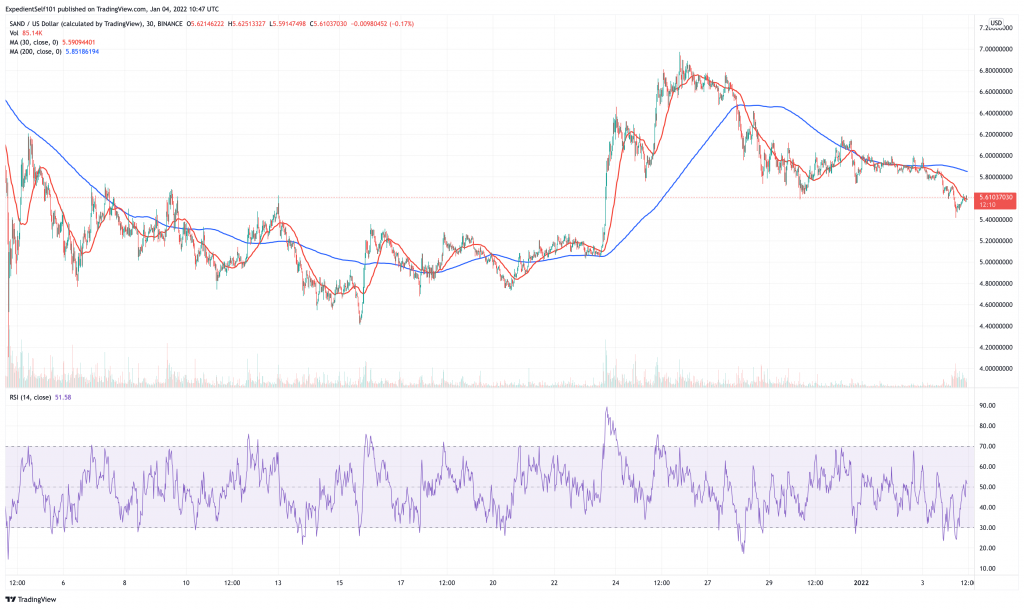 SAND is due a correction upwards. Its 30-day average has been below its 200-day for around a week now. Meanwhile, its RSI has also mostly been below 50, indicating that it's slightly oversold.
There's also plenty reasons to be optimistic about the Sandbox in 2022. It had a very strong 2021, selling one plot of land for $4.3 million at the start of December. It also turned over $86 million in land sales in the last week of November alone, more than any other metaverse-related platform.
And with a $93 million raise from major VC fund SoftBank at the beginning of November, it's very well-positioned to continue growing. This is why, as the metaverse mania looks set to continue in 2022, it's one of our 5 best cryptocurrency to buy on low prices.
Capital at risk
Read more:
How to buy Shiba Inu
Guide to buying cryptocurrencies
How to buy Cosmos
Related: Coins Marketcap