5 Top Crypto to Buy this Week [BTC, ETH, SOL, BNB, ADA] January Week 2 2022
January 10, 2022 by CoinSurges
151
The crypto space began 2021 with a bang with
The crypto space began 2021 with a bang with record highs shown in the first half of the year. In 2022, the nascent industry has taken a more subdued form as most blockchain-based assets are currently struggling with the bears. However, this presents an ideal opportunity to identify some of the 5 top crypto to buy and also snap them up for a bargain.
Get best and latest bitcoin news today with coinsurges.
If you are looking to diversify your portfolio and explore the crypto landscape, then our top crypto to buy list should definitely make part of your strategy.
1. Bitcoin (BTC)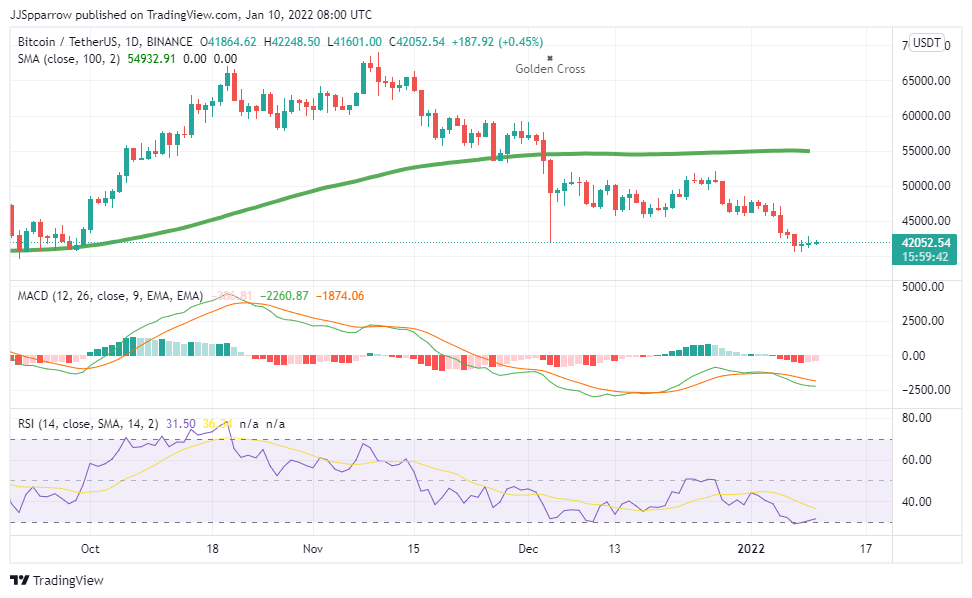 Bitcoin remains our number one pick for the top crypto to buy category and is a favourite among several crypto investors as well. The proof-of-work (PoW) has become a storehouse of value due to its hardcap limit of only 21 million coins that will ever be mined.
Added to this is the tight security the Bitcoin network currently enjoys. Since its remarkable launch in 2009, Bitcoin has remained secure even when other networks have suffered malicious attacks from bad actors.
Note: Check breaking stories and Latest Cryprocurrency News with coinsurges.
Given its competitive mining process, Bitcoin mining has presented a number of issues among regulators and environmentalists over its high carbon footprint.
However, studies have shown that these figures are rapidly declining due to the introduction of renewable energy sources towards providing cheap electricity for BTC mining process.
Positives have been largely hard to come by as the broader crypto market has been in the red zone, but its potential to become a hedge against inflation has several investors piling up on the premier digital asset.
Related: Check Live price, charts, and trading for the best cryptocurrencies like Bitcoin, Ethereum, Shiba Inu, Dogecoin etc.
Bitcoin is up a modest 0.37% at press time and currently trades at $42,052.54. The top crypto dog has seen better days after skyrocketing to a price peg of $69,044.77 in mid-November before retracing. Strong support is expected in the $38,000 range making now an ideal moment to buy BTC for a bargain.
2. Ethereum (ETH)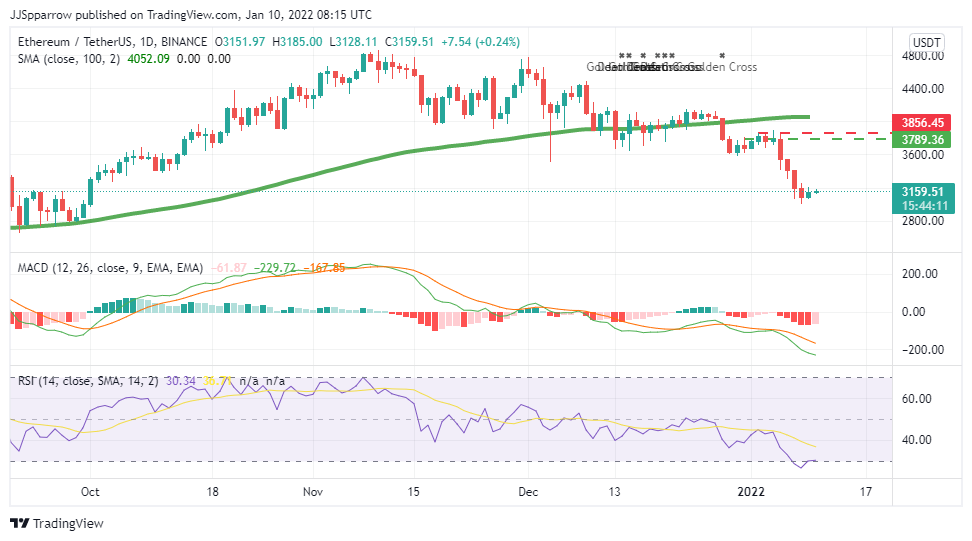 Ethereum has followed in the footsteps of Bitcoin for most of its existence and shot up to almost $5,000 in a record 2021 bullish run.
Following its strong niche in the smart contracts-driven economy involving fledgling sub-sectors like decentralised finance (DeF9), non-fungible tokens (NFTs), the Metaverse, Ethereum makes one of the top crypto to buy given its expansive use case.
The foremost smart contract asset has been blighted with the twin evils of high gas fees and network congestion following a remarkable 2021 growth of its underlying services.
These challenges have become even more pungent despite the use of multi-chain solutions due to the protocol's reliance on the outmoded PoW model. Given this, Ethereum is currently working on moving to an upgraded proof-of-stake (PoS) consensus algorithm in the coming months.
As part of its efforts to address these challenges, the Ethereum network has recently launched the Kintsugi testnet. So far, the testnet has hit over 100,000 blocks showing exponential growth in the network's concerns.
Following its older cousin, the foremost smart contract asset is idling in a low price peg of $3,159.51, reflecting a 1% increase in the last 24 hours. Its sharp 35.32% decline from its $4,900 makes this an ideal opportunity to purchase the top crypto asset.
3. Solana (SOL)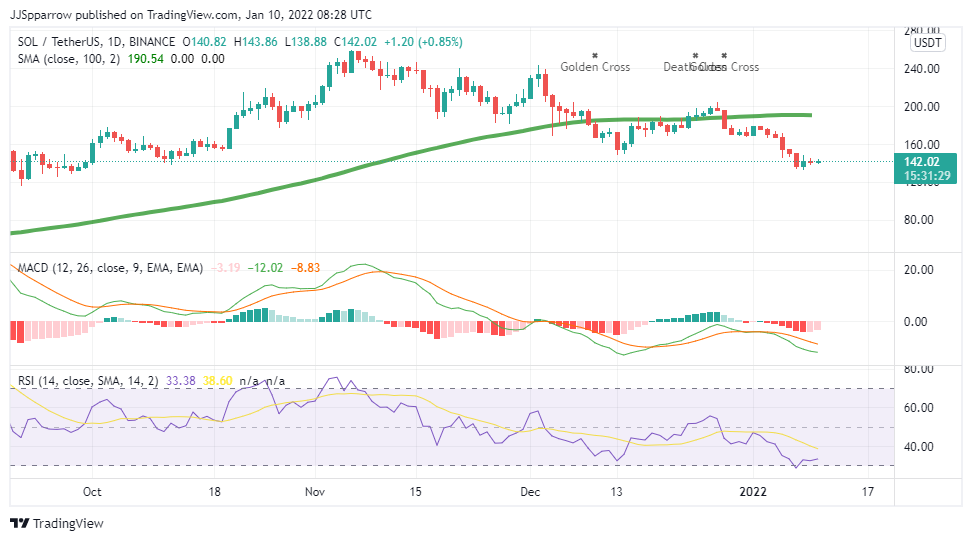 Solana started in 2021 as an underdog but has since skyrocketed to record prominence in the last 12 months. Its remarkable success lies in its focus on addressing all the deficiencies apparent on its DeFi rival, Ethereum.
Some of its unique selling points (USPs) include a high-performance, scalable network, costing users a fraction of a penny to complete transactions, and an eco-friendly reliance on a proof-of-history (PoH) timing mechanism and a PoS model.
Solana has become the DeFi darling of the world and has seen its blockchain protocol and developer community hit record highs in the last 12 months. In a recent report by Electric Capital, Solana has recorded over 5x of monthly active developers between December 2020 and December 2021.
Further evidence of Solana's appeal for decentralised applications (dApps) is the recent launch of Solana's first trade splitting swap on Jupiter Aggregator.
This allows DeFi users to dynamically split orders between automated market makers (AMMs) to reduce slippage while delivering the best prices for swaps.
Price-wise, governance token SOL has struggled with the bears and is trading below the 100-hour simple moving average (SMA) indicator price of $190.67.
This puts SOL at its current price of $142.02, showing a 1.33% increase from its previous trading session. Solana's competitive nature in the new decentralised economy makes SOL a top crypto to buy now for the coming weeks.
4. Binance Coin (BNB)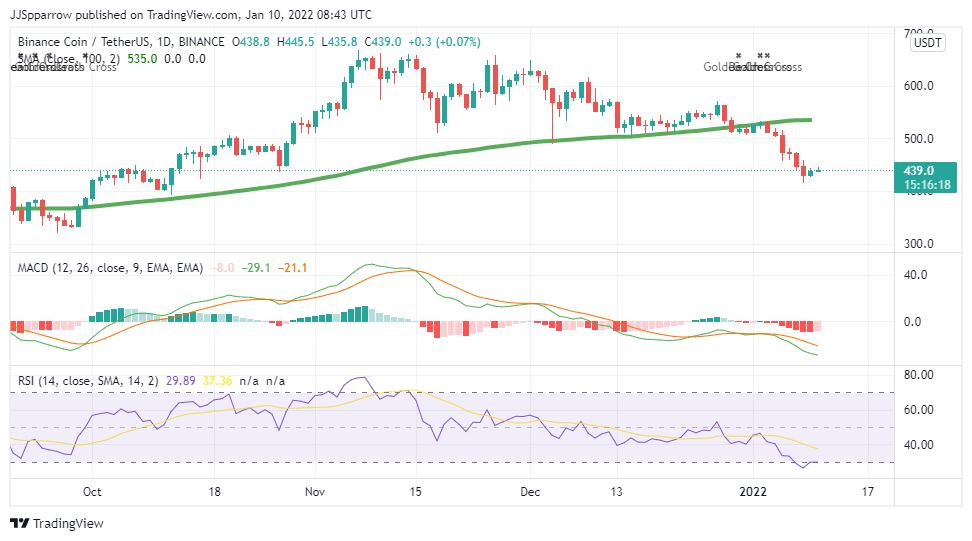 Binance Coin does not offer the same use case as other top crypto protocols, but the digital token's rally in the past year makes BNB a top crypto to buy. Coming into 2021 for a low price peg of $38, BNB climbed to a record high of $650 in the first quarter of the year, reflecting an 800% increase in a short period.
Native to the Binance ecosystem, BNB is a discount token used on the Binance exchange to reduce trading fees for customers. Binance's push into the DeFi and NFT sub-sectors have seen BNB feature a lot in its services.
The BEP-20 token's use cases have since skyrocketed, making BNB one of the top traded digital assets after the likes of BTC and ETH.
BNB's price increase has been tied to its token burn mechanism. According to the Binance exchange, its 18th quarterly token burn would be happening soon. This would reduce the amount of BNB in circulation and increase its value in the crypto market.
BNB is currently trading at $439, up 1.87% in the past 24 hours.
5. Cardano (ADA)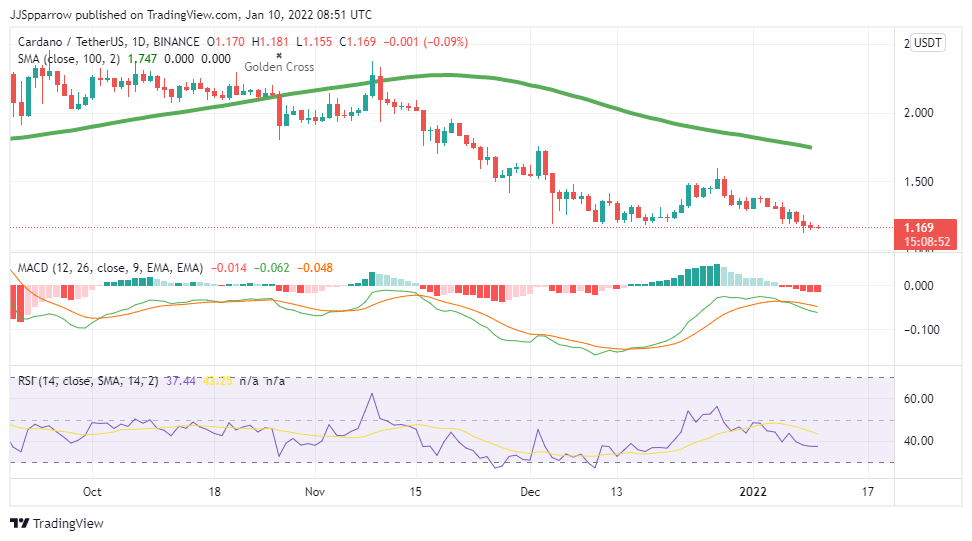 Cardano has kept a low profile, but the popular Ethereum rival is one of the top crypto to buy in the coming crypto wave. Cardano runs on a PoS model called Ouroboros, which divides transactions into epochs or timeframes. By this, transactions are verified faster with minimal energy use and wastage.
Cardano has also been meticulous in its blockchain approach and uses a peer-reviewed format to build its protocol. In addition, Cardano has been working on enabling digital identities for several under-represented populace.
Price-wise, ADA has battled the bears for several months and is trading at $1.169, up 0.02% in the past day. However, the protocol's growing impact could largely see it make January a comeback period.
In a recent tweet, over 20 blockchain-based gaming protocols are currently operational on the Cardano network. A large ecosystem could see ADA hit record highs once more
Read more:
Where to Buy Solana (SOL)
Where to Buy Ethereum (ETH)
Related: Coins Marketcap