Decred (DCR) Slips 12% Despite Prospects of Future Upgrades
August 14, 2022 by CoinSurges
44
The Decred (DCR) coin has continued to fall and is currently trading around the $3516 mark, despite the network accelerating its growth to drive the
The Decred (DCR) coin has continued to fall and is currently trading around the $35.16 mark, despite the network accelerating its growth to drive the blockchain into widespread use. Decred's developer submitted an updated plan to improve the website, claiming it is already ready and needs payment and approval for deployment. As a result, this new advancement will make transactions more user-friendly.
Get best and latest bitcoin news today with coinsurges.
As a result, Decred (DCR), an autonomous digital currency, was one of the standout assets, achieving large gains while bucking market price fluctuations. When it was trading at $48 six days ago, the cryptocurrency had increased by 75%.
The asset reached its peak price of $60 in the early trading hours of August 6, according to CoinMarketCap data, but the gains were short-lived as the DCR bulls failed to hold at $60 and returned with solid downward momentum over the daily chart.
Buy Decred Now
Your capital is at risk.
Note: Check breaking stories and Latest Cryprocurrency News with coinsurges.
Decred (DCR) Price Review
At the time of writing, the price of Decred is USD 35.16, with a 24-hour trading volume of $4.7 million. Decred has fallen 4.57% in the last 24 hours. Decred is now ranked #85 on the market, with a live market value of $501 million and a maximum supply of 21,000,000 DCR coins, of which 14 million are currently in use.
Future Upgrades recover Decred (DCR) Coin May
The Decred network has accelerated its development to accelerate blockchain adoption. Decred's lead developer shared an updated plan to modify the website, indicating that it was completely created and was awaiting reimbursement and deployment authorization, making it easier for consumers to complete transactions.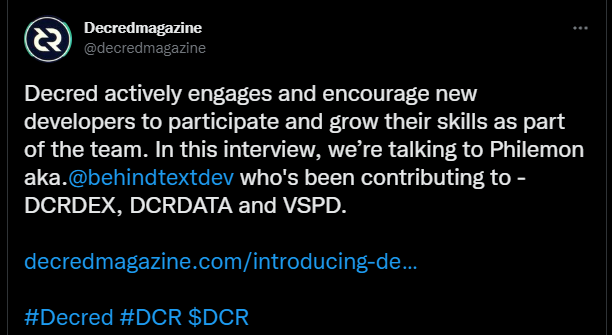 Related: Check Live price, charts, and trading for the best cryptocurrencies like Bitcoin, Ethereum, Shiba Inu, Dogecoin etc.
As a result, the most recent network progress may assist the Decred (DCR) coin in limiting its further losses. The hybrid mechanism that has powered the Decred project for the past six years has contributed to its success.
Most cryptocurrency investors prefer the PoS technique because it is more environmentally friendly. As of December 2021, Decred's significantly altered rewards are linked to PoS and PoW.
Bearish Crypto Market
The cryptocurrency market has been sending out conflicting signals all day, with Bitcoin trading below the $24,000 mark. Bitcoin, the most well-known and valuable cryptocurrency, was trading at $23,978, down more than 2%.
Despite the fact that the market value of all cryptocurrencies increased by 1.53% to $1.14 trillion on August 12 from the previous day, major cryptocurrencies experienced early losses. After the previous day, the cryptocurrency market shrank by 1.57%, with a total value of $85.24 billion.
As a result, the bearish cryptocurrency market was thought to be one of the main factors keeping Decred prices low.
Decred (DCR) Technical Outlook
The DCR/USDT failed to maintain its positive momentum, falling below $70 to complete a Fibonacci retracement of 61.8 percent at $43 and a 78.6 percent retracement at $35. DCR looks to be falling more as it tries to breach the $35 support level.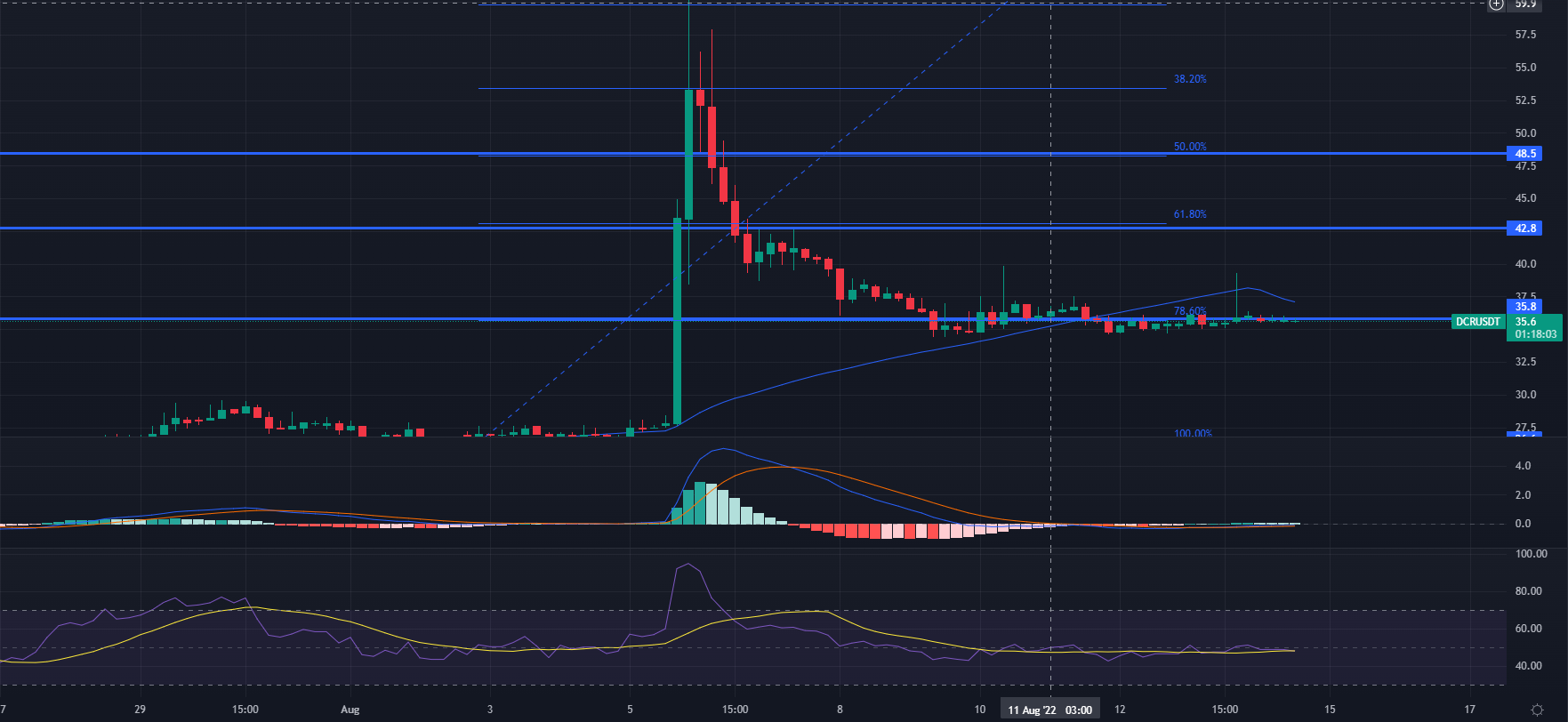 Decred (DCR) Price Chart – Soruce: Tradingview
The 50-day exponential moving average of $33.33 is anticipated to provide immediate support for DCR. A 4-hour candle closure above this level has the ability to propel DCR into an uptrend. Failure to achieve so, however, may result in another slump until the next support level of $29.10 is reached. Good luck!
Read more:
How to buy Cryptocurrencies
How to buy Bitcoin
Related: Coins Marketcap