Footprint Analytics: Will the rebranded Anyswap be the next Web 3.0 bridge?
January 5, 2022 by CoinSurges
191
On December 16, Anyswap announced it will rebrand
On Dec. 16, Anyswap announced it will rebrand as Multichain, reflecting a change in focus from asset cross-chain solutions to multi-chain asset interaction technology. In short, Anyswap (which will now be called Multichain) hopes to become the ultimate Web 3.0 router. 
According to the latest data from Footprint Analytics, Multichain's TVL rose from $1.5 billion on Oct. 6 to a peak of $5.6 billion on Oct. 11, an increase of 273%. With TVL currently stable above $4.5-4.8 billion, the stability of the Multichain is tied to the market size of blockchains creating a huge cross-chain market for assets to be transferred interoperably across multiple blockchains.
Get best and latest bitcoin news today with coinsurges.

Introduction to Anyswap & Multichain
Anyswap, used the AMM mechanism to support cross-chain trading of most major tokens until February 2021, but removed the trading feature to focus on asset cross-chain solutions with Fantom, Polygon, xDAI, Avalanche and other projects. Avalanche and other projects to support cross-chaining of Terra stablecoin UST between Terra and the Fantom mainnet.
Multichain's TVL currently ranks 15th on the web and supports 27 on-chain assets and 1,197 Tokens, making it the leader in cross-chain bridges. A series of updates and iterations have given the upgraded Multichain a solid foundation.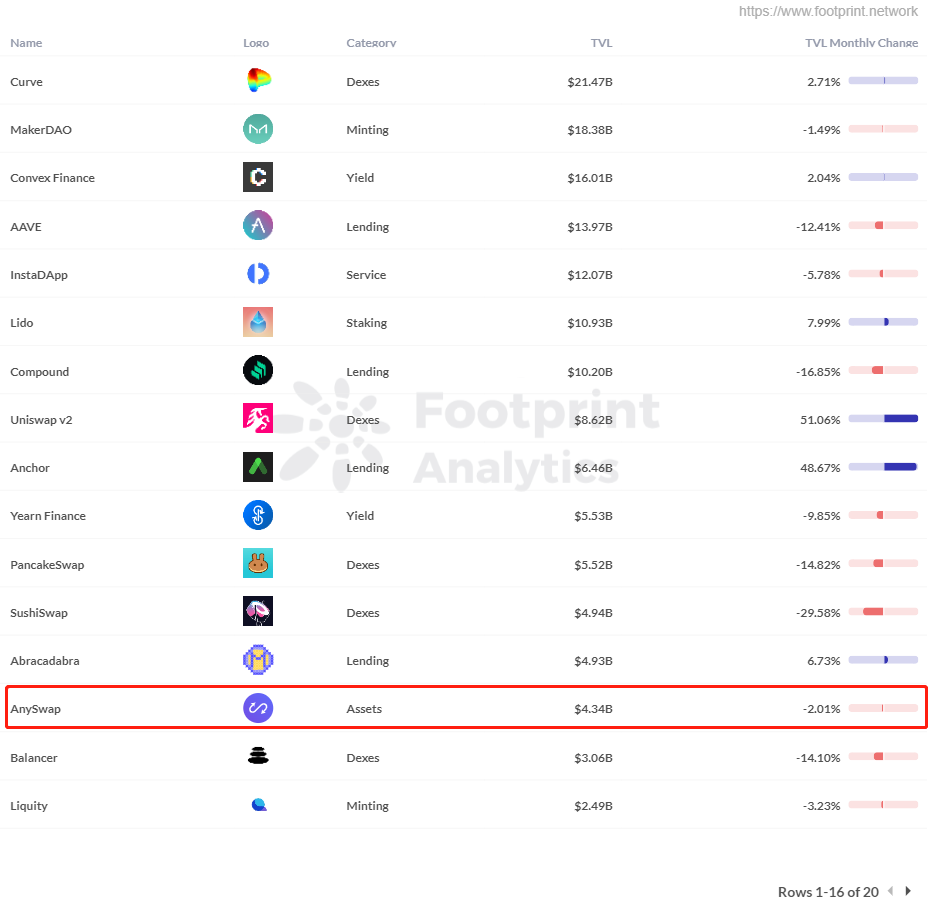 Why did Anyswap become Multichain?
As the number of official cross-chain bridges offered by different blockchains expanded, they threatened Anyswap's position as a third-party developer and independent operator of the same technology.   
Note: Check breaking stories and Latest Cryprocurrency News with coinsurges.
Now called Multichain, the project aims to become the ultimate router for Web 3.0, an infrastructure developed for arbitrary cross-chain interactions, supporting cross-chain interoperability of tokens, NFTs and common data between chains quickly, securely and inexpensively. Multichain's features include:
Non-custodial

and MPC (Multi-Party Secure Computing) models.

MPC processes Multichain cross-chain bridging and smart contract methods on other chains.

No-Slippage Swap.

Multichain's 1:1 swap enables users to perform 0 slippage transfers and eliminate the hidden cost associated with AMM.

Multichain Router.

Multichain Router allows users to swap between any two chains freely. It reduces fees and operational complexity, and makes it easier to move between chains.
Token goes from ANY to MULTI 
Anyswap used ANY as its token, which currently has a circulating supply of 18.64 million and a maximum supply of 100 million. 
The initial application scenarios of ANY were purely as a governance token
Related: Check Live price, charts, and trading for the best cryptocurrencies like Bitcoin, Ethereum, Shiba Inu, Dogecoin etc.
Voting is used in the supported mainnet to decide whether to access it or not.

Used to incentivize Anyswap worker nodes to provide stable and secure cross-chain services.

Used to vote for governance rules.
However, as the protocol focuses on the asset cross-chain business, ANY's governance applications weaken. 
In June, Anyswap announced the first token buyback and destruction mechanism, by assigning 20% Cross-chain business fees for buybacks and destroying ANY to enter deflationary mode. After this, ANY became used mainly for pledging and voting in the node election.
ANY's price has trended upward since Anyswap announced the new mechanism, rising from $2.02 on June 20 to a peak of $20.50 on Dec. 15, an increase of 915%, and currently falling back to $18.94.
Over the past 4 months, ANY's trading volume has remained above $15 to 30 million, hitting an ATH of $200 million on Dec. 4. On the same day, Binance launched Anyswap (ANY) and opened ANY/BTC, ANY/BUSD and ANY/USDT trading pairs, enabling users to pay ANY as a bridge transaction fee, resulting in soaring trading volume.

ANY's market capitalization has been trending higher around the time of the brand update and currently stands at $327 million. Market capitalization reflects the market value of a project in the DeFi industry and is primarily influenced by the price of the coin and the number of tokens in circulation and available for trading.

After the brand upgrade, the governance token will be changed from ANY to MULTI, and ANY will initiate the token exchange through a smart contract at a rate of 1:1. There will also be a new token logo.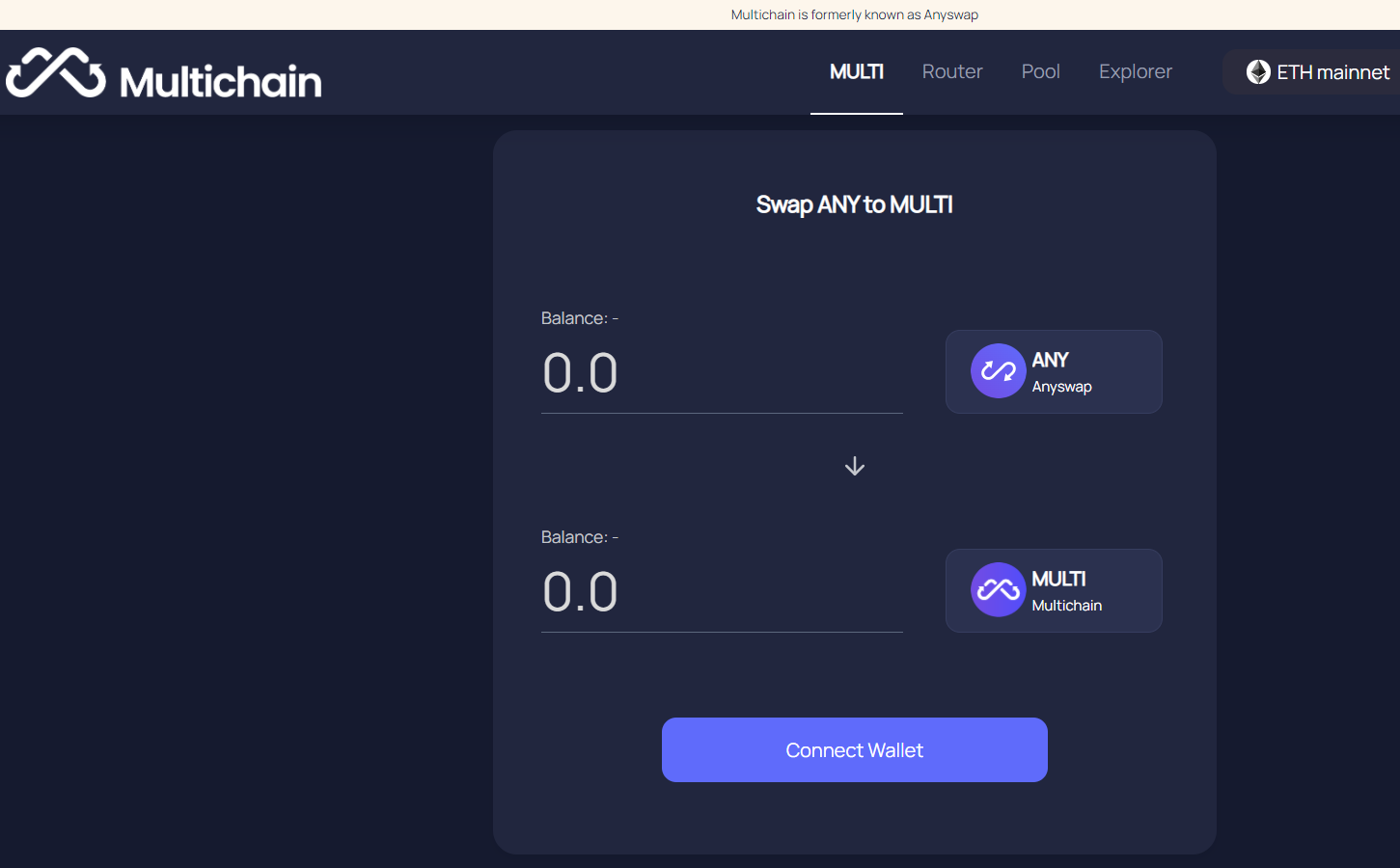 How has the cross-chain experience changed since the upgrade?
The Anyswap team released a new website on Dec. 16, which merges the original cross-link bridge and multi-link routing functions into Multichain, providing a unified cross-link interface. 
Suppose the user wants to cross-link Polygon from BSC with 12 USDT.
Before the upgrade
Before the upgrade, the user needed to understand how Anyswap worked so he or she could choose between the cross-chain bridge and multi-chain routing. One of the main goals was to simplify the process.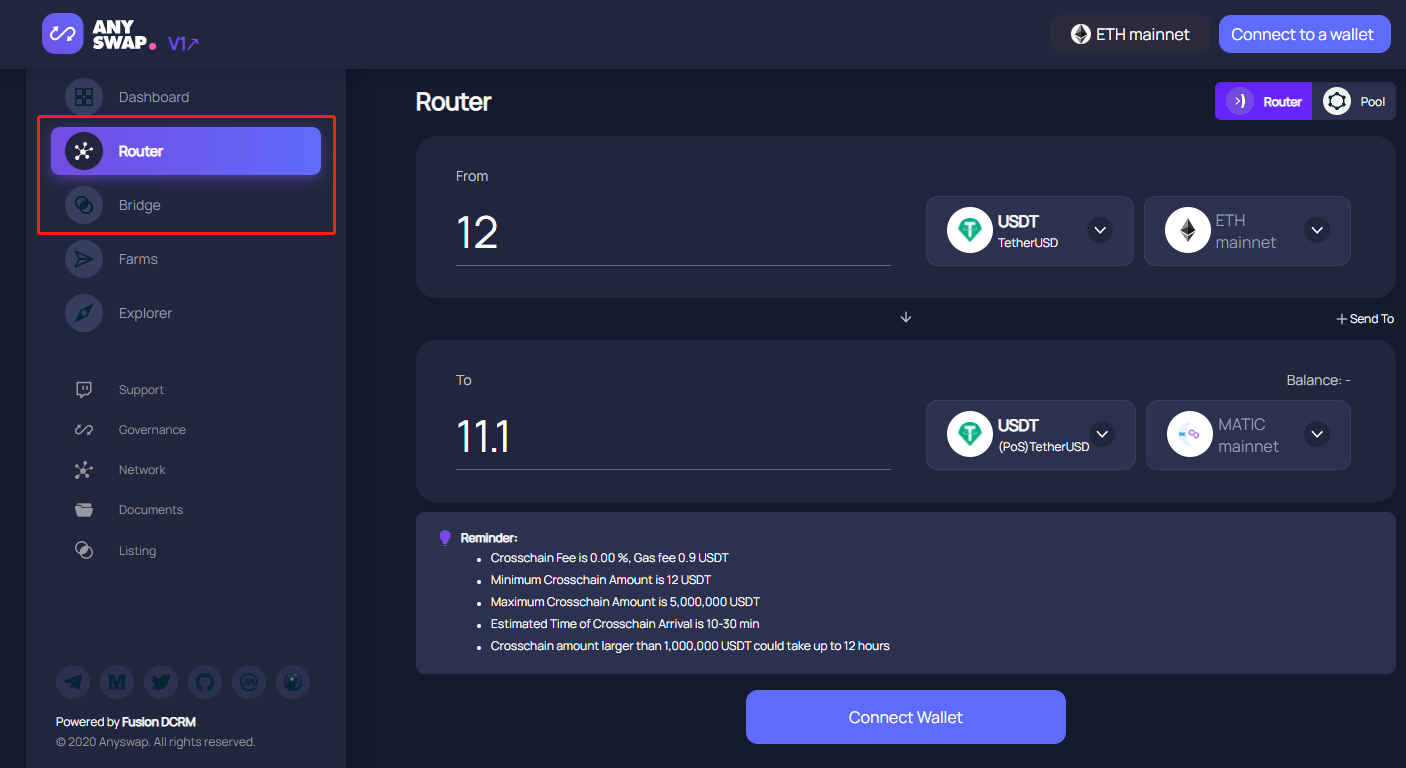 After the upgrade
The user can do the cross-link operation on the multi-link routing function, minus the gas fee of 0.9 USDT. The actual amount to Polygon is 11.1 USDT, and the whole interaction process takes less than 5 minutes.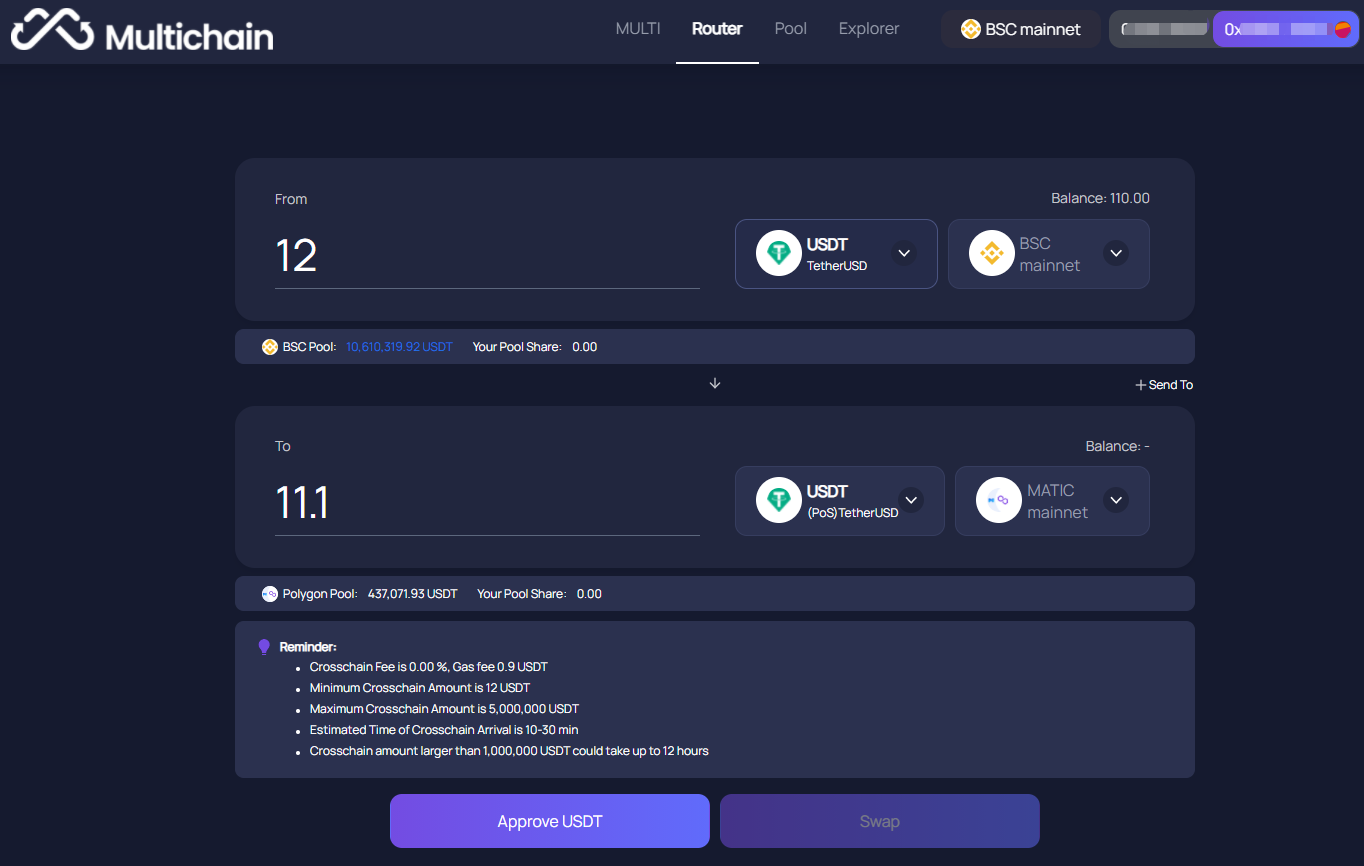 The pool function has also been upgraded, and users can now see the chains that each token supports and the liquidity funds of users across chains to each chain. Currently, the largest cross-chain pools are Ethereum and BSC—the most active blockchains in cryptocurrency.
Users can now easily access cross-chain reference data and evaluate potential opportunities and risks. In addition, users should consider how to choose the right bridge from multiple aspects such as top TVL and considerable scale, security, high industry awareness, cross-chain timeliness and gas fee.
Multichain likely to play an important role in the cross-chain market
With its rebrand, Multichain offers :
A multi-chain asset interaction solutions with more new chains

A better user experience
As the DeFi market continues to grow, the transfer of user assets has become an immediate need for everyone.
This report was brought to you by Footprint Analytics.
What is Footprint
Footprint Analytics is an all-in-one analysis platform to visualize blockchain data and discover insights. It cleans and integrates on-chain data so users of any experience level can quickly start researching tokens, projects and protocols. With over a thousand dashboard templates plus a drag-and-drop interface, anyone can build their own customized charts in minutes. Uncover blockchain data and invest smarter with Footprint.
Footprint Website
Discord
Twitter

Telegram

YouTube
The post Footprint Analytics: Will the rebranded Anyswap be the next Web 3.0 bridge? appeared first on CryptoSlate.
Related: Coins Marketcap