20 Celebrities & Rich Investors Talking about NFT Tokens
January 5, 2022 by CoinSurges
242
Everyone seems to be talking about NFTs

Everyone seems to be talking about NFTs (non-fungible tokens), from famous celebrities to rich investors and Hollywood actors.
Get best and latest bitcoin news today with coinsurges.
In this listicle, we'll discuss what different famous personalities think about NFTs, what the future of NFTs looks like, how NFTs will shape the digital art industry, the specific NFT tokens they like and chose to invest in, and more.
Mark Cuban
"You can sell anything digital using NFT. We can sell virtual Mavs gear, sneakers, art, pictures, videos, experiences, anything our imagination can come up with we can sell. We are looking at adding virtual jewelry, accessories, and clothing that we create to real pictures in social media. So you can add cool Mavs virtual sneakers that look as real as the ones on your feet to your posts." (CoinDesk, Jan 2021)
"What really changed everything was smart contracts. They came along, and that created DeFi and NFTs. That's what changed the game. That's what got me excited. That's why it's a lot like the internet."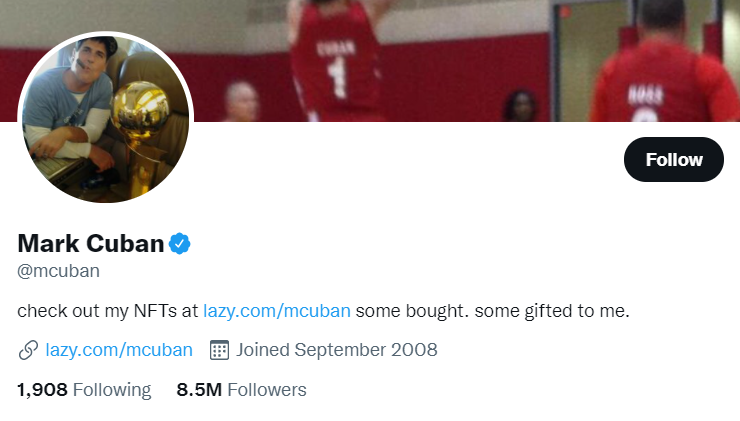 Note: Check breaking stories and Latest Cryprocurrency News with coinsurges.
Mark Cuban's Twitter Account and link to NFTs
"I wanted an easy way to show my NFTs and a way to put them in my social bios, my email signature, and any place I can stick a URL." (Apr 2021)
"I think the collectible side of it is going to completely turn the [art], music and movie industry upside down" (The Quest Podcast, Feb 2021)
Related: Check Live price, charts, and trading for the best cryptocurrencies like Bitcoin, Ethereum, Shiba Inu, Dogecoin etc.
Mark Cuban is a multibillionaire American entrepreneur, television personality, and media proprietor with a net worth of around $4.3 billion. He is having an online gallery to showcase NFTs in all of their forms.
Using this platform, users can showcase their digital art and collectibles in a single place and share their collections on social networking channels. As per Cuban, the website, which is still in beta form, is operational and has already received thousands of visitors in its starting days.
To avail of the features of this website, one needs to sign up with their crypto wallet and an email address. Once a unique URL is created by the users, the NFT collection would be shared by them on various social media platforms through email or messages.
Buy Ethereum for NFTs
Your capital is at risk.
Paris Hilton
"I see NFTs as a way to innovate, empower others and push the boundaries of how artists interact with their fans."
"I see NFTs, or non-fungible tokens, as the future of the creator economy. They use blockchain technology to help creators increase the value of their work and share it with fans in real time…."
"In addition to new funding opportunities, NFTs help lesser-known artists distribute their work more widely and with better financial terms, so they get to keep a majority of the revenue…….Basically, NFTs put more power in the hands of the creators, and that's something I'm proud to be part of."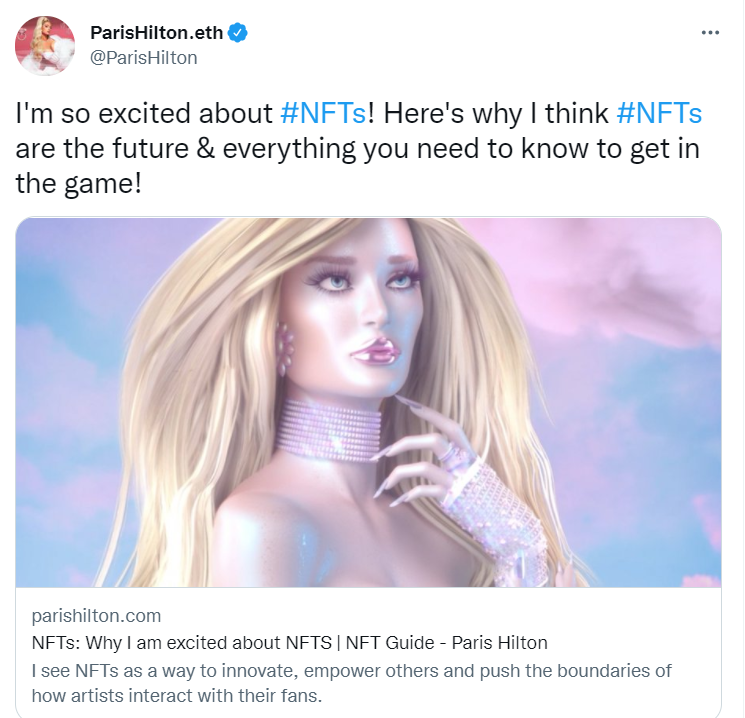 Paris Hilton NFT
"I launched my first NFT drop in March 2020, and have been obsessed with NFTs and the never-ending possibilities of this technology ever since," (Bloomberg, Nov 2021)
"NFTs are the future for creators, creatives and collectors, and this is just the beginning." (Bloomberg, Nov 2021)
"The potential of NFTs for artists blows my mind, especially when you consider the value it will unlock on things like secondary sales….I will continue to invest and leverage my platform to spread the word about the potential of this incredible new way to think about creativity and art." (Bloomberg, Nov 2021)
An American media figure, Paris Hilton is another celebrity who has publicly expressed her craze for NFTs. She has launched also her own line of NFTs collection in collaboration with designer Blake Kathryn.
Lindsay Lohan
"Tokenization through NFTs can help content creators and musicians actually own the property rights for what they create, and allow them to profit accordingly.." (Forbes, Mar 2021)
"Gamers, for instance, spend hundreds of dollars on games like Fortnite: tokenization allows them to sell or trade their investment of time and money, and that's something to be excited about in my opinion." (Forbes, Mar 2021)
Lindsay Lohan is an actress, singer, songwriter, producer, and businesswoman, who has played an important role in bringing attention to this buzzing industry by making the case for NFTs to help artists and musicians retain the rights to their works and the revenue streams that come with them.
In September 2021, she announced via Twitter that she would be releasing her limited NFT collection by associating in a paid partnership with the Canine Cartel. In this exclusive NFT collection, every token double as your Cartel membership. Lohan's personalized "fursona" was up for auction until October 2nd.
Snoop Dogg
"I am @CozomoMedici" (Twitter, Sep 2021)
The above tweet brought a huge stir to the crypto world when the famous rapper, Snoop Dogg, revealed that he is behind the twitter account that has been operating under the pseudonym Cozomo de' Medici.
Interestingly, this twitter account has turned out to be an avid NFT collector, and it has been providing detailed tips on minting money in the crypto space. Reports state that rapper's wallet is stuffed with NFT items worth more than $17 million.
He has just released his NFT collection with the name "Decentralized Dogg" by associating with the crypto artist Coldie. From November 29 to December 3, the NFT collection was auctioned on the famous NFT marketplace, SuperRare, for all NFT enthusiasts, who were "willing to pay up for exclusive pieces".
The "Decentralized Dogg" NFT, according to the report, includes ten photos of Snoop Dogg's face drawn from various times of his life mixed as a 3D collage and accompanied by a song composed by Snoop Dogg himself. The "Decentralized Dogg" NFT was sold for the whopping amount of 188 ETH at the end of the auction on December 3.
DJ Steve Aoki
"You have to believe that the next world is going to be digital.." (CNBC, Apr 2021)
"Everyone's going to own a digital wallet, and everyone's going to flex and show what they think is valuable to them in their wallet." (CNBC, Apr 2021)
"I've spent millions in buying NFTs, I've created a bunch of different collections, worked with tons of different artists, I worked with Sotheby's and whatnot." (Forbes, Nov 2021)
"I didn't even mind not playing shows, and I found new passion in collecting cards, baseball cards, Pokemon and NFTs. The same time I found cards, the summer of 2020, was the same time I found NFTs. And it's very similar in that they're collectibles. But the difference is, with NFTs is that I can be a creator as well as a collector." (Forbes, Nov 2021)
Music producer, Aoki, has also been in the space of NFTs with the launch of his recent NFT collection, "Neon Future".
Tom Bilyeu
"There will be a day where you have your car but you'll also have the NFT version of your car," (CNBC, Apr 2021)
"Think of it less as a flex and more of a way to represent yourself and find others that are into the same things." (CNBC, Apr 2021)
"It's going to be in a real moment of disruption that you're going to be able to really make moves, and that moment ended up being NFTs….I found out about NFT's on a Monday, and by Tuesday, we had allocated millions of dollars in budget to building out platforms and projects." (NFT Now Podcast, Sep 2021)
CEO of Impact Theory Studios, Tom Bilyeu shares a unique opinion of NFTs, and believes NFTs will soon disrupt media and entertainment industry with their amazing technology and features.
Shawn Mendes
Many celebrities are using NFTs to contribute towards social causes and welfare. Referring to one such instance, Canadian Singer Shawn Mendes came out with his NFT collection by collaborating with the company Genies.
The celebrity singer announced that all proceeds from the sale of his NFT will go to the Shawn Mendes Foundation, which helps emerging digital artists.
"Inspired by my Wonder album, I'm dropping collectible Genie Moments to raise funds with an aim to amplify, uplift and empower young digital artists who are using their talent to create positive, social change".
Leo Messi
"Art is like football. Eternal." (Twitter, Aug 2021)
The legendary football, Leo Messi, recently kicked off his new journey in the digital space when he had launched his NFT collection with the name "Messiverse".
The NFT collection was created by the renowned artist BossLogic, and the artwork includes collectibles tilted "Worth the Weight", "Man from the Future", "The King Piece", and a lot more. The NFTs sold $3.4 million on the first day of their release, demonstrating his star power.
Eminem
"I've been collecting since I was a kid, everything from comic books to baseball cards to toys, as well as every rap album on cassette I could get my hands on,…Not much has changed for me as an adult … I've attempted to re-create some of those collections from that time in my life, and I know I'm not alone. I wanted to give this drop the same vibe of, 'Oh, man I gotta get just that one or maybe even the whole set!' It's been a lot of fun coming up with ideas from my own collecting passion." (Press release, Apr 2021)
World-famous American rapper, Eminem, is the most recent artist to dig deep into the world of NFTs with the launch of his NFT collection. This collection is inspired by the toys and action figures that Eminem collected as a kid.
The Grammy award-winning rapper also owns one of the Ethereum-based Apes for a massive amount of 123.45 ETH. It is estimated that Eminem has bought at least 15 NFTs under the name Shady Holdings from the famous NFT marketplace, OpenSea.
Kate Moss
"Art for me has always been about the moment. Time is the thing that there is never enough of and that waits for no one; I'm intrigued by who will want to own a moment of mine." (Moss via an email)
"I was also drawn to the idea that this ownership can be used to help others in need hopefully gain more of it. I look forward to seeing this experiment through." (Moss via an email)
Adding another name to the list of celebrities who have started their new innings in the NFT market, we have British supermodel Kate Moss who had made her debut with her series of NFTs collection based on her artwork.
Dinesh Karthik
"NFT has picked up a lot in the West in the last one year with iconic moments from basketball being bought by fans digitally, which gave us the idea," (Reuters, Oct 2021)
"The more I read up, the more I was convinced that it (NFTs) was a unique and out-of-the box idea" (Oct 2021)
"This is one of the best moments of my life. To get it out there graphically and have people look at it, not to mention the fact that I was an integral part of the whole process was something I thoroughly enjoyed". (CNBC, Oct 2021)
Famous Indian cricketer Dinesh Karthik's last-ball six during Nidahas Trophy final against Bangladesh becomes India's first Sports NFT.
Vishakha Singh
"Celebrity Participation is great for the ecosystem. This will help us in garnering more awareness towards this new game changing world of digital assets" (Reuters, Oct 2021)
Vishakha Singh is the vice president for NFTs at the Indian crypto exchange WazirX. Considering the booming craze about NFTs in the country, she is of the opinion that the presence of a celebrity in NFTs is sure to generate interest in the audience.
Nicole Buffett
"It was wild, it was very exciting. I was like, 'Oh no, I have to do all this technological stuff.' It felt uncomfortable. It was like learning a new language." (Institutional Investor, Sep 2021)
"NFTs are really art as money, art as currency, which means there's more accessibility for artists and for people who want to buy art. It's great just to have more eyeballs on the work." (Institutional Investor, Sep 2021)
The granddaughter of the famous American investor Warren Buffett, Nicole Buffett states NFTs have made it possible for artists like her to reach a plethora of buyers at a time when in-person art displays and gallery openings were nearly impossible because of the pandemic.
Elon Musk
"I'm selling this song about NFTs as an NFT" (Twitter, Mar 2021)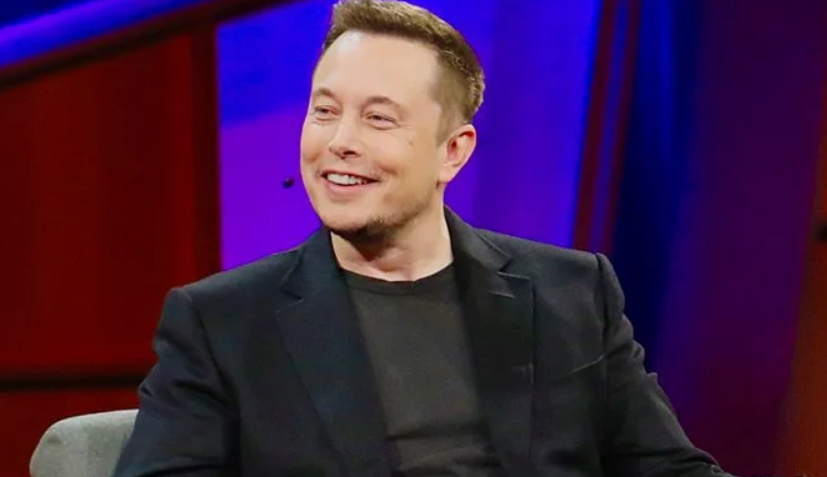 Founder, CEO, and Chief Engineer at SpaceX, Elon Musk, also ventured into the NFT space when he had announced that he would be selling a song on NFTs as an NFT. Musk shared a song on NFTs on his Twitter account with the lyrics, "NFT for your vanity. Computers never sleep. It's verified. It's guaranteed."
Ramon Vicente de Vera
"We have a keen interest in NFTs. We as innovative banks are always interested in moving with the transformative changes in the digital space, NFTs' and Metaverse will rapidly dominate the digital space and most top companies have started jumping on the NFT train." (December 2020)
Ramon Vicente de Vera is the CEO of Mercobank, one of the world's leading digital banks. As per the recent statements of Ramon Vicente de Vera, the company is planning to enter into the NFT market.
Devin Finzer
"NFTs represent the building blocks for brand new peer to peer economies, where users have greater freedom and ownership over their data, and developers can build powerful, interoperable applications to provide real economic value to users,"
"In 2021, NFT space grew beyond all expectations….the number and diversity of NFT projects grew exponentially. From virtual worlds to generative art, there was a Cambrian explosion of innovation. And the design space is still so underexplored." (Twitter, Dec 2021)
"We saw a host of creators, artists, makers, and athletes advance the NFT space, bringing their talent, creativity, and energy with them. Beeple, 3Law, Shawn Mendes, Christie's, Adobe, the Golden State Warriors and so many more." (Twitter, Dec 2021)
"I think the general theme is more and more of our lives are already moving digital, and we haven't really had a great way to own things and show them off in that context," (Insider, Oct 2021)
Devin Finzer is the CEO and co-founder of OpenSea. Founded in 2017, the trading volume of the company has crossed over $200 million in the month of August 2021. Further, it has more than 60 million NFTs.
Finzer believes that NFTs are gaining traction as one of the first consumer-oriented blockchain killer applications.
Parker McCollum
"This is a digital product that can have scarcity, security and versatility," (Yahoo, Dec 2021)
"Versatility, in that almost anything can be tokenised as delivered to the end-user through an NFT and it doesn't need to just be a song, artwork or video." (Yahoo, Dec 2021)
"I think a lot of indie artists were using them, to begin with, but I've seen the Rolling Stones, Shawn Mendes, and Mike Shinoda all release NFTs," (Yahoo, Dec 2021)
Parker McCollum is a famous singer/songwriter. Famously known as the Gold Chain Cowboy, he has recently announced the launch of Fan Club NFT on MusicFX.
Justin Kan
"Durable digital assets through NFTs are the future of gaming. We've partnered with some of the most innovative gaming companies on the Solana blockchain to bring that future forward."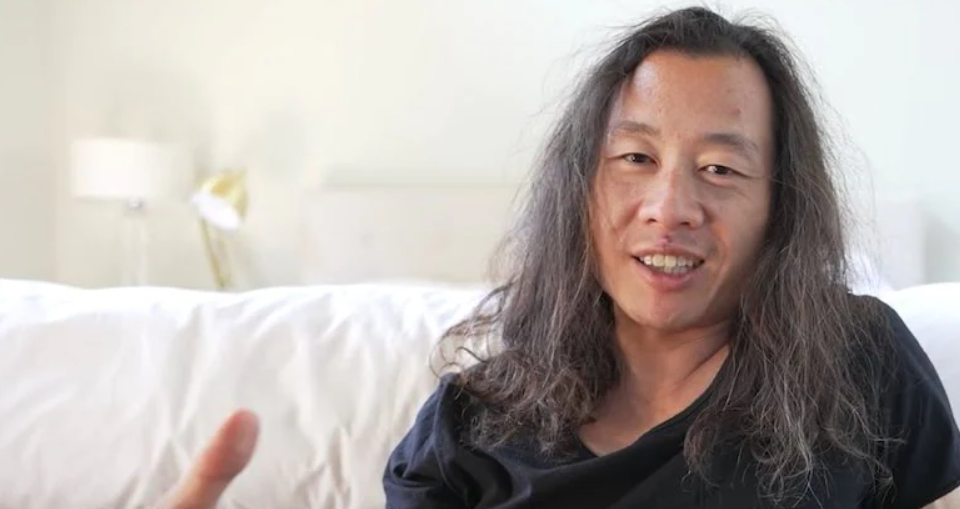 Justin Kan is the co-founder of Fractal, which is recognized as the first digital marketplace dedicated to gaming non-financial tokens (NFTs). A marketplace for gaming NFTs or long-term assets, Fractal allows you to do amazing things in a virtual world.
Dileep Seinberg
"There are some celebrities who have built around themselves a great life. They are looking to monetize on their legacy by launching their own NFTs. The others are fairly new to the industry and earlier they were dependent on some godfather or commercially driven studios and distribution network, where these artists barely received the worth of their efforts. With the advent of blockchain, it is possible to skip all the middle layers to reach an audience who can appreciate the work and reward buying their NFTs"
Dileep Seinberg is the founder and CEO of Thinkchain, a Crypto, NFT, and Blockchain consulting company. He opines that celebrities release NFTs in order to cash in on their legacy or by newbies in order to make a quick buck without fear of rejection by the audience. (Economic Times, Dec 2021).
Andrew Wilson
"NFTs and "play-to-earn" games are the future of our industry." (PC Gamer, Nov 2021)
"I think that in the context of games we create and the live services that we offer, collectible digital content is going to play a meaningful part in our future,..so, it's still early to tell, but I think we're in a really good position, and we should expect us to kind of think more innovatively and creatively about that on a go-forward basis." (PC Gamer, Nov 2021)
Andrew Wilson is the chief executing officer of the company, Electronic Arts (EA). EA is the most well-known publisher of games on Console, PC, and Mobile.
NFT Tokens – How to Invest
From the above quotes and observations of the renowned personalities, it is clear that NFT tokens are the future of the media and entertainment industry. The ability of NFTs to grant ownership and value to the assets or creations of artists is attracting a lot of interest in the digital art field.
Since the NFT market is expected to increase in the future, we believe now is the best moment to invest in these digital collectibles. As NFTs are purchased using Ethereum, you may get your first NFT by purchasing Ethereum from the eToro trading platform, a cryptocurrency exchange regulated by the FCA, CySEC, and ASIC.
Then visit an NFT marketplace such as Opensea to buy NFTs.
Related: Coins Marketcap