5 Best Penny Crypto Coins for Big Profits – Jan 2022
January 6, 2022 by CoinSurges
217
Bitcoin has remained a major talking point for
Bitcoin has remained a major talking point for several investors however penny crypto coins have also seen exponential growth in the past year. With the premier digital asset already posting little in gains, investors are on the lookout for penny crypto coins for big profits to buy given their lower entry price.
Get best and latest bitcoin news today with coinsurges.
If you are a value-driven investor, then this article should help you identify some of the best penny crypto coins for big profits to add to your portfolio.
1. Cardano (ADA)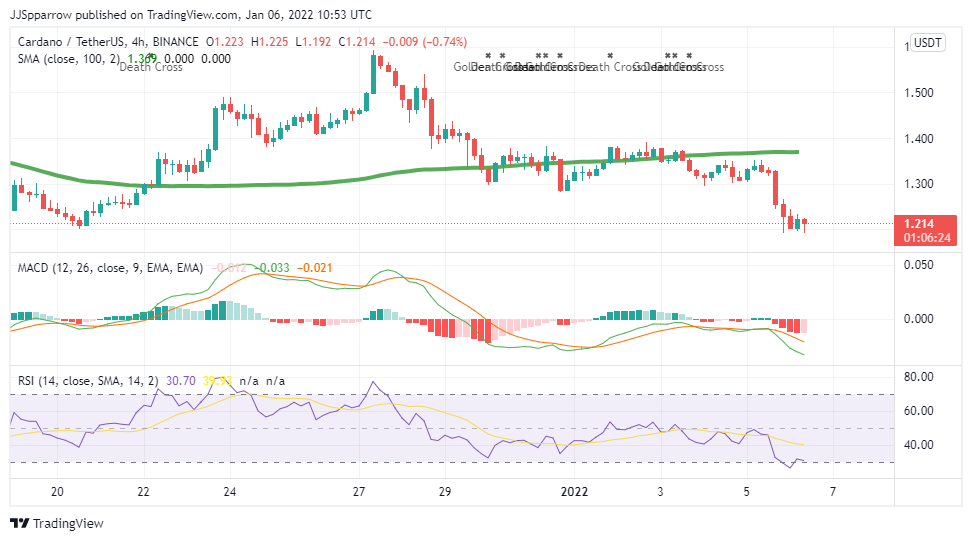 Cardano comes with a lot of promise and is our number one pick for the best penny crypto coins for big profits to buy as 2022 begins. A peer-reviewed blockchain, Cardano is a third-generation protocol that aims to solve the blockchain trilemma of interoperability, scalability, and security.
The asset does this using a proof-of-stake (PoS) consensus algorithm which sees transactions broken into epochs or timeframes. Validators are chosen using a random system ensuring that the protocol retains its decentralised nature.
Note: Check breaking stories and Latest Cryprocurrency News with coinsurges.
At its core, Cardano is expected to be faster, cheaper, and less energy demanding than Bitcoin and Ethereum put together. Still under development, Cardano has been rolling out a number of upgrades to its network making investors excited.
However, this has not stopped Cardano from snapping major partnership deals with top companies. One of such is a recent partnership with home appliance and smartphone giant Samsung to plant 2 million trees in Madagascar on Cardano-based protocol Veritree.
Also, its gaming landscape is rapidly booming as over 30 blockchain-based gaming ecosystems are already operational on the Cardano network.
Related: Check Live price, charts, and trading for the best cryptocurrencies like Bitcoin, Ethereum, Shiba Inu, Dogecoin etc.
Price-wise, Cardano's utility token has followed the broader crypto market's steps and is on decline. The digital asset is trading at $1.214 and is down 9.74% on the daily chart. This is not expected to hold for long as the broader crypto market catches some tailwinds in the coming weeks.
2. Ripple (XRP)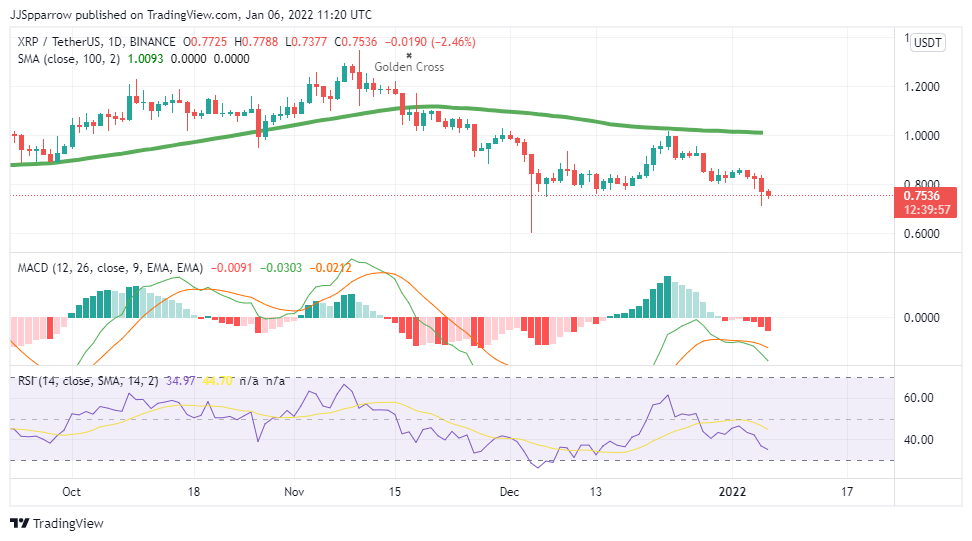 Ripple has remained a favorite among several investors and is one of the top penny crypto coins for big profits. Even though the blockchain protocol is currently battling with regulators in the US, several investors are still bullish on the digital asset for several reasons.
For one, the Ripple protocol offers some of the broadest range of blockchain services and is currently fledgling out a strong market for legacy-backed businesses. Several key companies are turning to the low energy protocol to onboard into the crypto atmosphere.
Another lies in its set of benefits. Looking to address the issues inherent in Bitcoin and Ethereum, Ripple uses a Federated Consensus Algorithm (FCA). This makes the cross-border payment protocol faster, cheaper, and greener.
Focused on enabling a carbon-neutral blockchain future, Ripple has recently been tapped by a United Nations' partner Xange.com for a Carbon Credit Offsets program. This would likely make XRP a top crypto coin to buy among ESG-minded investors in the coming months.
On the price front, XRP is struggling with the bears and is trading at $0.7536, reflecting a 9.16% in the past day. The moving average convergence and divergence is on the sell spot as the orange trendline leads.
3. Polygon (MATIC)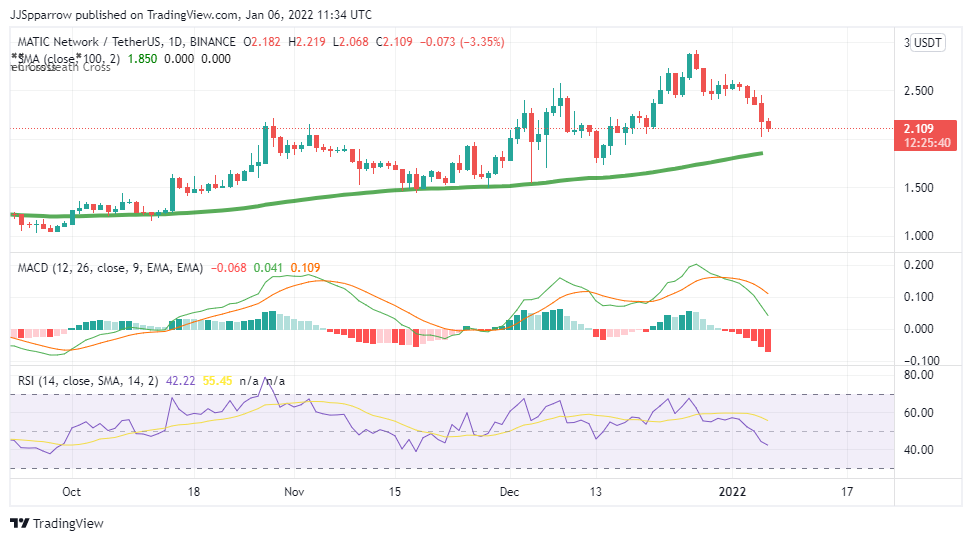 Polygon has been a balm for the Ethereum network's wounds, but the multi-chain solution has rapidly come into form in the past year. Network traffic has spiked over 1,000%, with developer community building on the Polygon network up 62%. These impressive figures make Polyon one of the best penny crypto coins for big profits investors should be looking out for.
The Polygon protocol helps relieve the transactions burden on the Ethereum network, and decentralised applications (dApps) are rapidly onboarding on the layer-2 protocol.
Non-fungible token (NFT) arm Polygon Studios has recently partnered with Project Galaxy to enable NFT collection on popular NFT secondary marketplace OpenSea. This will allow users to claim loot boxes, enabling them to access one of the 4 elemental NFTs from the partnership.
Also becoming a hotbed for crypto indexes, Polygon has seen the likes of DeFi, metaverse, data economy, and several other baskets of crypto assets onboard due to low fees, scalability, and top security with the Ethereum network.
In the area of price performance, Polygon's MATIC has seen a serious bullish presence in 2021 and is decidedly set for an outstanding 2022. At press time, MATIC is trading at $2.1, down 12.11% in the last 24 hours.
However, the scalability solution is trading well above the 100-hour simple moving average (SMA) price of $1.84, pointing to long-term bullish potential.
4. Algorand (ALGO)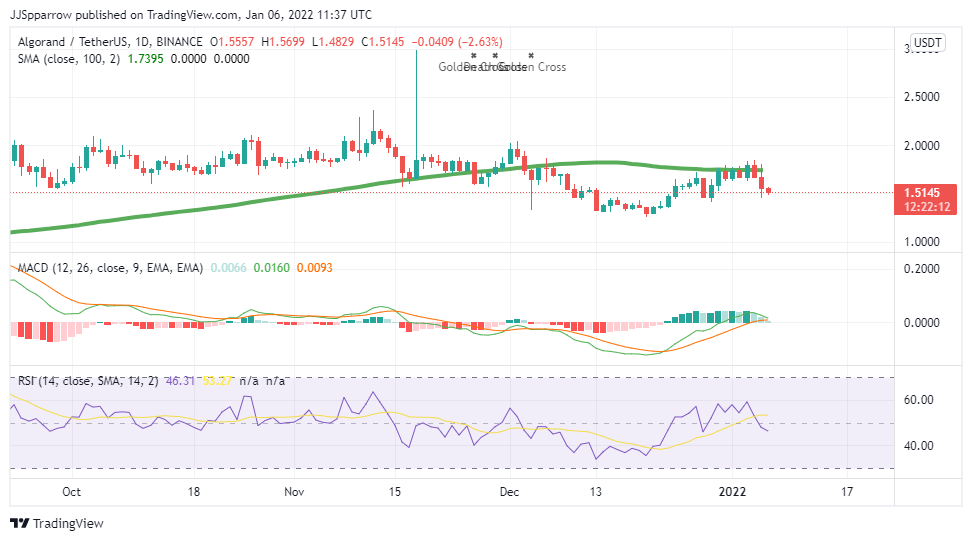 Algorand is one of the best penny crypto coins for big profits going for a bargain at the moment. Trading below the $2 range at $1.5149, the Ethereum competitor is down 12.16% in the past hour. However, this presents an ideal opportunity to snap up this promising project for a low price.
Algorand principally runs a smart contract network as the layer-1 protocol allows the development of dApps, minting of NFTs and decentralised finance (DeFi) services. Promising low costs and fast transaction timeframes, Algorand is seen as a suitable successor to the Ethereum blockchain.
The likely impact of this blockchain solution has seen the Drone Racing League team up with Algorand to bring play-to-earn (P2E) sports games to the fledgling blockchain ecosystem. To incentivise adoption, users will be able to race drones for crypto assets as well as NFTs on the Algorand blockchain.
Hitting a major bearish stage at the moment, Algorand's ALGO is trading below the 100-hour SMA price of $1.7520.
5. Fantom (FTM)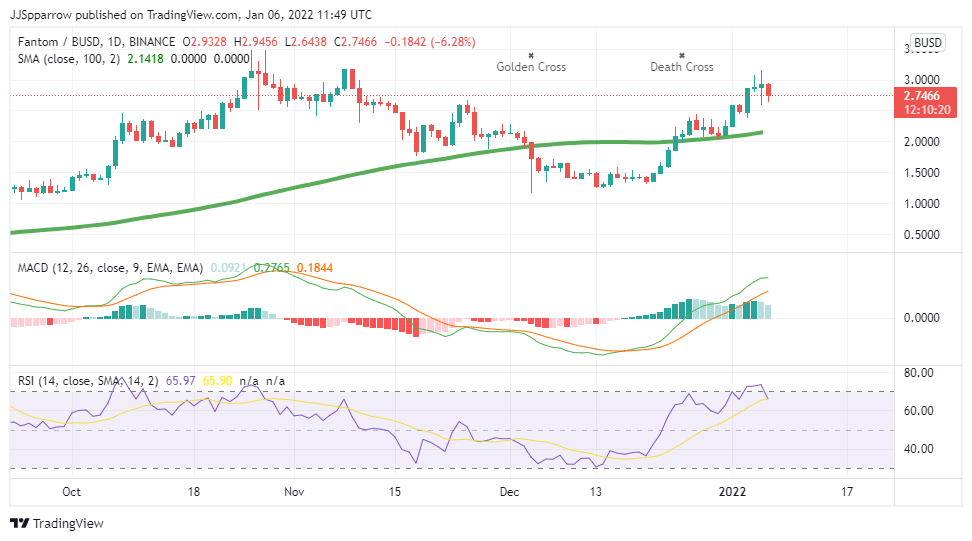 Fantom makes our last best penny crypto coins for big profits, but the blockchain protocol is not a small project. Fantom has flourished as DeFi, and NFTs picked up steam in 2021. The protocol's scalability and low cost have endeared users to Fantom.
At press time, Fantom's governance token FTM is also trading in the red zone with other top altcoins and is down 10.76% in the past 24 hours. This sees the digital asset trading at $2.7489. Despite this, FTM is showing strong technical performance as its relative strength index (RSI) is trading dangerously close to the overbought region of 66.47. This has positively impacted the moving average convergence and divergence (MACD) of the digital asset as the indicator points to a strong buy signal.
The Ethereum competitor has recently integrated with the data analytics platform Cryptokek.
Read more:
Where to Buy Algorand (ALGO)
Where to Buy Cardano (ADA)
Related: Coins Marketcap