5 Blockchain NFT Games to Invest In January 2022
January 11, 2022 by CoinSurges
238
The cryptocurrency market has weathered another

The cryptocurrency market has weathered another disappointing day. At $2.06 trillion, its total cap has fallen by around 0.6% in the past 24 hours. Most major coins have fallen along with it, with ethereum (ETH) and solana (SOL) down by 1.7% and 4%, respectively. However, when looking to the time when the market recovers, there's one category of cryptocurrency that offers particular promise. This is the group of blockchain-based games, particularly those involving the use of non-fungible tokens (NFTs). These had a very strong end to 2021, and it's likely that they'll be among the biggest movers once a new rally begins. As such, here's our pick of the 5 blockchain NFT games to invest in right now.
Get best and latest bitcoin news today with coinsurges.
5 Blockchain NFT Games to Invest In
1. Axie Infinity (AXS)
AXS is down by 2% in the past 24 hours, falling to $70.30. This represents a 25% drop in the past week and a 31% fall in the past month. AXS is also 57% down from its all-time high of $164.90, set on November 6.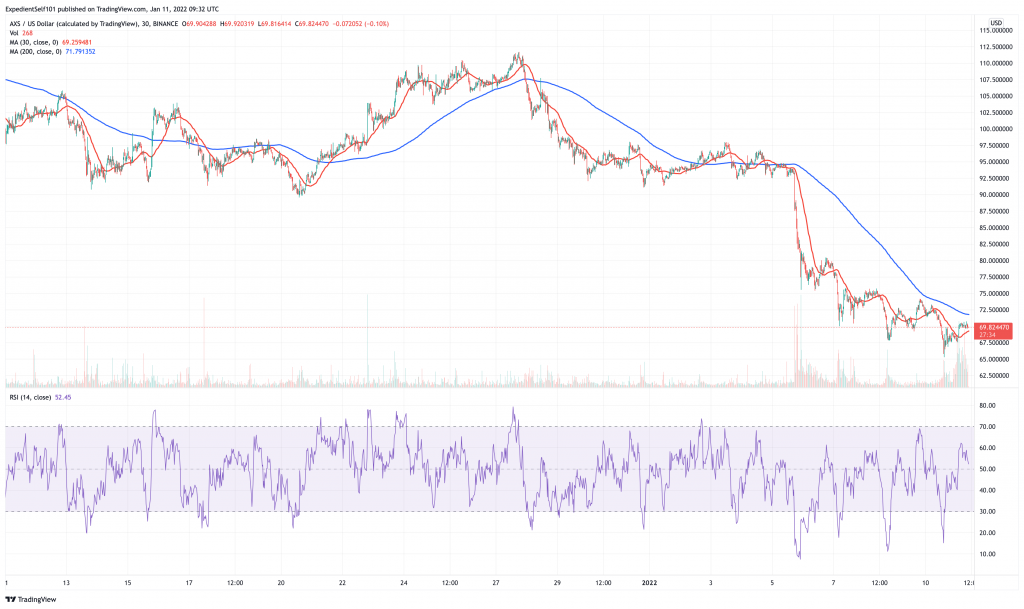 AXS' indicators show a sharp decline which may be bottoming out. Its 30-day moving (in red above) has fallen steeply compared to its 200-day average (in blue) and looks like it could be on the cusp of rising again. Likewise, its relative strength index (in purple) has recovered from a massively oversold 20 to roughly 55. Of course, if the wider market is in the midst of a longer term decline, such apparent signals may simply be blips in a bear market.
But when that bear market does end, AXS is one of the best-positioned NFT-related game tokens to rally strongly. Most notably, Axie Infinity continues to boast around 2.5 million daily active users. This has remained stable despite the fact that AXS itself has declined by more than 50% since November.
Note: Check breaking stories and Latest Cryprocurrency News with coinsurges.
Axie Infinity also has the benefit that its developer, Sky Mavis, raised $152 million in October from Andreessen Horowitz and Mark Cuban. This funding gives it the resources to not only see out a market downturn, but to continue growing in the future. That's why AXS is one of our 5 blockchain NFT games to invest in right now.
2. The Sandbox (SAND)
SAND is down by nearly 5% in the past 24 hours, hitting $4.47. This price is also a 21% fall in the last seven days, and a 30% drop in the last 14. SAND is 47% down from its own record high of $8.40, set on November 25.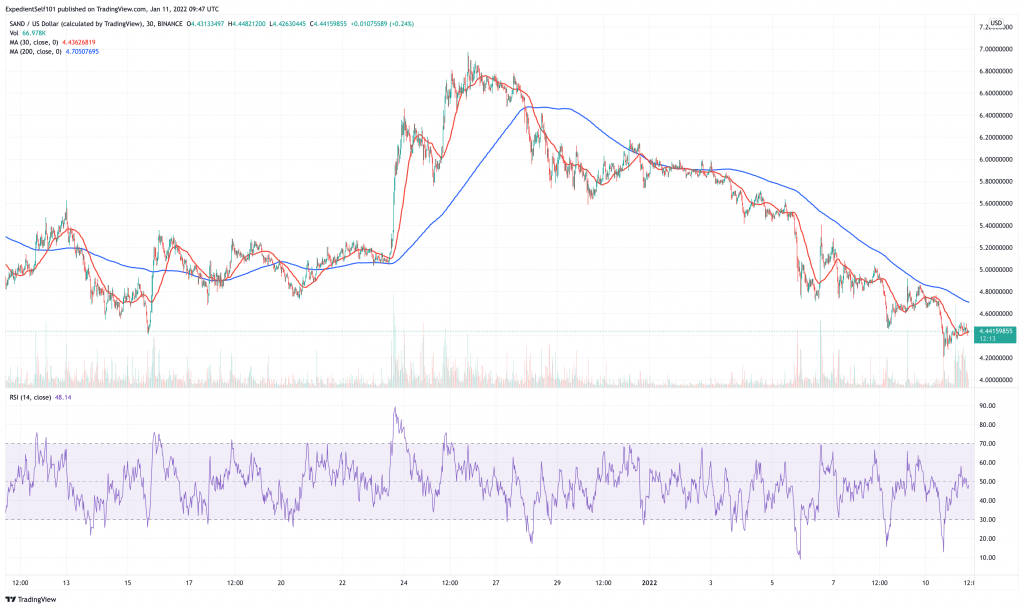 Related: Check Live price, charts, and trading for the best cryptocurrencies like Bitcoin, Ethereum, Shiba Inu, Dogecoin etc.
SAND's indicators are much like AXS', something which indicates a market-wide downturn. Still, under normal circumstances, the sustained declines of SAND's 30-day average would point to an incoming rally.
Despite the weakness of SAND's technicals, it's in a similarly strong position to AXS. Its native platform, The Sandbox, is one of the most successful NFT-based game blockchains in the cryptocurrency sector. A platform for building virtual games and experiences, it had a very strong 2021, selling one plot of land for $4.3 million at the start of December. It also turned over $86 million in land sales in the last week of November alone, more than any other metaverse-related platform.
And with a $93 million raise from major VC fund SoftBank at the beginning of November, it has the resources to resume its ascent once market conditions become more favourable.
3. Decentraland (MANA)
At $2.84, MANA is down by 3% in the past day. It has also fallen by 13% in the past week and by 25% in the past fortnight.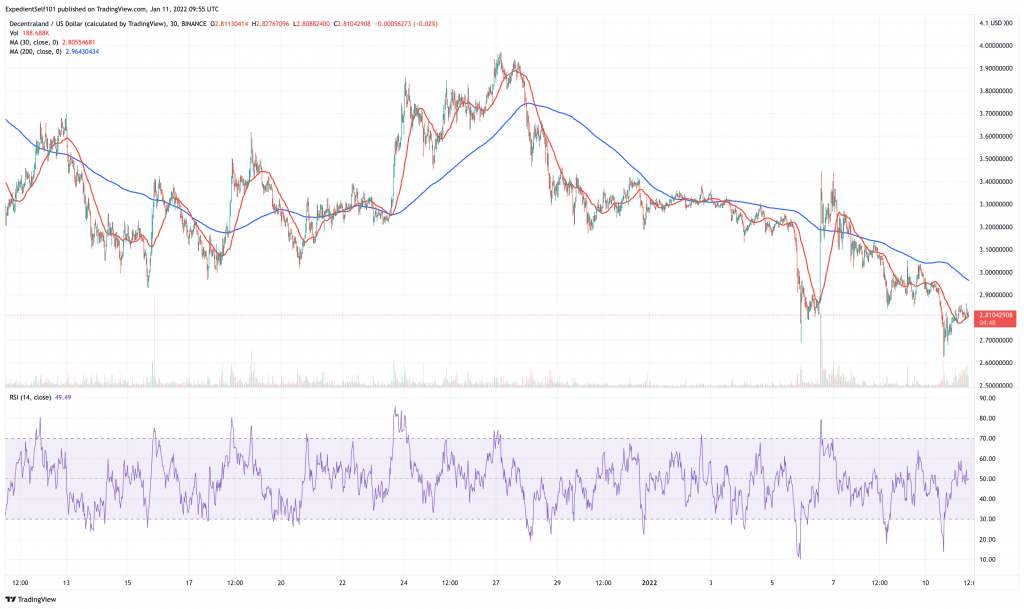 MANA's technicals also show a sustained fall which, hopefully, would turn into a rebound at some point. Still, with the market looking like it's experiencing a down-cycle, these technicals may continue to disappoint for a while yet.
2021 was the Year of the Metaverse. No one won bigger than @decentraland.

• 33x increase in users
• 41x increase in token price
• $12B peak market cap

…and it's just getting started. https://t.co/JbfkhYytyJ

— Mario Gabriele 🦊 (mariog.eth) (@mariogabriele) January 9, 2022
MANA is the native token for Decentraland, a blockchain-based open-world game. It has taken advantage of the current trend for the metaverse, with the coin rallying strongly following Facebook's announcement of its name change (to Meta) on October 28. Since then, it has witnessed an increase in usage and investment, with Samsung's launch of its own store on Decentraland being its most recent positive news.
Samsung announces Samsung #837X, an immersive digital world for fans. This new #metaverse connects #technology with culture as users can complete quests for exclusive #NFTs and a live mixed-reality launch party #CES2022 Learn more: https://t.co/UaJms8Ol9u pic.twitter.com/59fJunrMye

— Samsung US Newsroom (@SamsungNewsUS) January 6, 2022
Such partnerships show how big the metaverse — and Decentraland — remain. This is why MANA is one of our 5 blockchain NFT games to invest in this year.
4. Gala (GALA)
GALA is down by 4% today, having dropped to $0.306952. It's also down by 30% in the past week and by 45% in the past 30 days. And compared to its ATH of $0.824837 (set on November 26), it's down by 62.5%.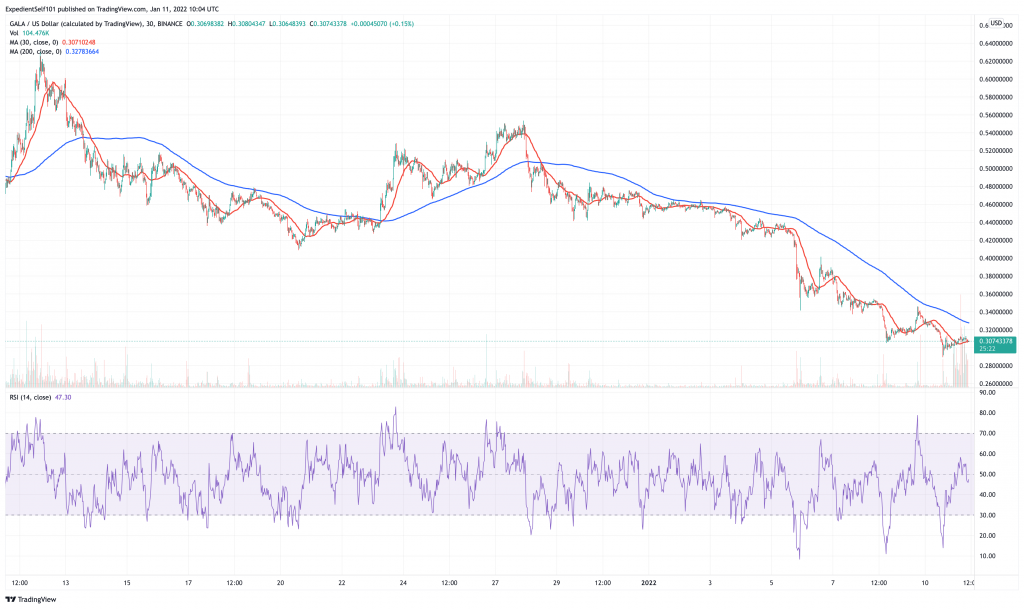 As with the tokens above, GALA's RSI reveals a series of falls under 20 in the past week or so. It also reveals an inability to really stay above 50 for any considerable period of time, indicating that it is indeed part of a bear market.
Still, as the native token of the of Gala Games platform, it can still have a very good 2022. aRunning on the Ethereum blockchain, Gala lets developers build blockchain- and NFT-based games. Towards the end of last year, it announced plans to spend around $1 billion on the development of its ecosystem. This betrays some serious intent.
Two main takeaways from the @GoGalaGames Spider Tank World Cup in Seoul:

1.) We are built differently and we will always and consistently drive to level up…always.
2.) We announced that we are going to deploy $1b USD into game development in Korea. https://t.co/nvQEYgl3kQ

— Jason Brink aka BitBender (@BitBenderBrink) November 28, 2021
According to Gala Games' website, 1.3 million active users and has now racked up around 26,000 NFT sales. And with the company launching a new, $100m development fund in December, it's likely to continue growing in the future.
5. DeFi Kingdoms (JEWEL)
The market is pricing JEWEL at $16.51, representing a fall of 4.5%. It also represents a drop of 20% in the past week. That said, JEWEL remains 13% up in the past fortnight and 150% up in the last 30 days.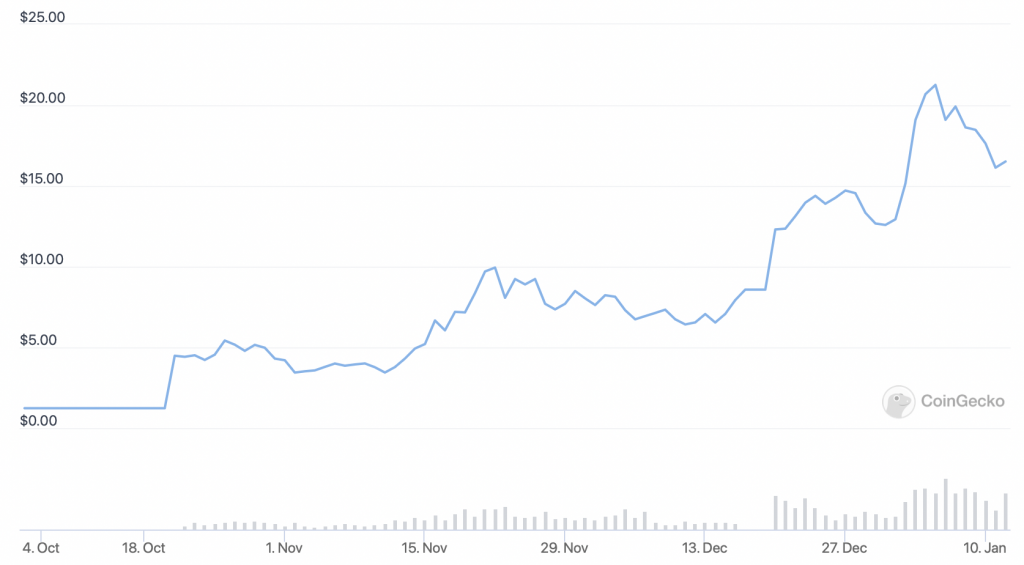 Available only since October and built on the Harmony ONE network, DeFi Kingdoms is a blockchain-based game that incorporates DeFi aspects. Much like Axie Infinity, its playable characters are also tradable as NFTs. On top of this, it incorporates its own decentralised exchange and liquidity pool, making it one of the more unique blockchain games around.
According to DappRadar, DeFi Kingdoms is already the seventh-biggest NFT game in the past 30 days in terms of users. These currently stand at around 225,000, while the game's transaction volume for the past month stands at a whopping $1.67 billion. This means it's the highest-ranking game along this particular dimension.
Investors can trade JEWEL on the Harmony One version of Sushiswap, as well as on Coinex.
Capital at risk
Read more:
How to make and sell NFTs
Guide to buying cryptocurrencies
The 11 best NFT marketplaces
Related: Coins Marketcap