5 Next Meme Coins to Explode January 2022 Week 2
January 12, 2022 by CoinSurges
220
The cryptocurrency market has had a day of modest

The cryptocurrency market has had a day of modest recovery. Its total cap has risen by 3.5% in the past 24 hours, to $2.14 trillion. The vast majority of major coins have risen in parallel, with bitcoin (BTC) and ethereum (ETH) rising by 2.5% and 5%, respectively. Meme coins have also had a good 24 hours, with this area of the market also holding out the potential for future rises. As such, we've compiled a list of the 5 next meme coins to explode. Be warned though: while meme tokens certainly do surge every now and again, they can be more volatile than the average cryptocurrency.
Get best and latest bitcoin news today with coinsurges.
5 Next Meme Coins to Explode
1. Dogecoin (DOGE)
DOGE has risen to $0.154814 in the past 24 hours, an appreciation of 7%. It is, however, down by 8% in the past week and by 11.5% in the past fortnight. It's also down by 79% compared to its all-time high of $0.731578, set back in May.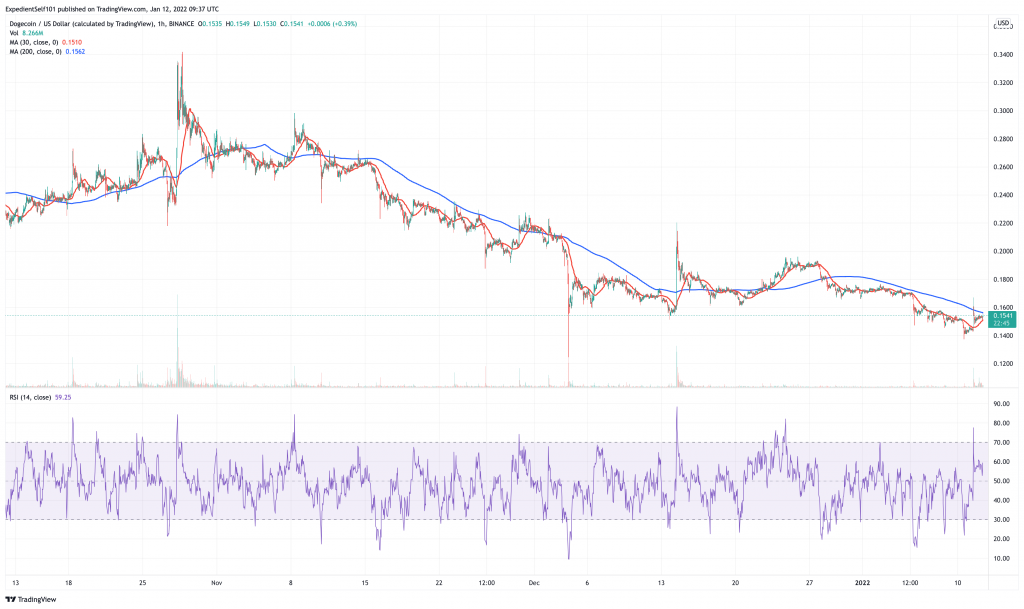 DOGE's indicators suggest that it may have just started a rebound of sorts. Its 30-day moving average (in red above) has begun moving up towards its 200-day average (in blue), something which may indicate a breakout. Likewise, its relative strength index (in purple) has risen from 20 a couple of days to 60 today.
DOGE is the biggest meme coin by market cap, and with good reason. It continues to have the biggest community of followers, with its Reddit page boasting some 2.3 million subscribers. It also currently accounts for just over 29,000 tweets per day, despite nothing much happening with its development or wider use at the moment. This all suggests that an army of holders and supporters may be ready to boost its price at a moments notice.
Note: Check breaking stories and Latest Cryprocurrency News with coinsurges.
The cryptocurrency also continues to receive occasional support from Tesla's Elon Musk. In December, Musk tweeted that Tesla would make some of its merchandise payable using DOGE. This sent the price of the meme coin rocketing, and it would be unwise to rule out any such tweets or moves in the future.
Tesla will make some merch buyable with Doge & see how it goes

— Elon Musk (@elonmusk) December 14, 2021

Related: Check Live price, charts, and trading for the best cryptocurrencies like Bitcoin, Ethereum, Shiba Inu, Dogecoin etc.
For all these reasons, DOGE remains one of our 5 next meme coins to explode.
2. Shiba Inu (SHIB)
SHIB has risen by just over 5% in the past 24 hours, reaching $0.00002860. As with DOGE, it's also down over longer timeframes: down by 12% in the past week, and by 22% in the past month.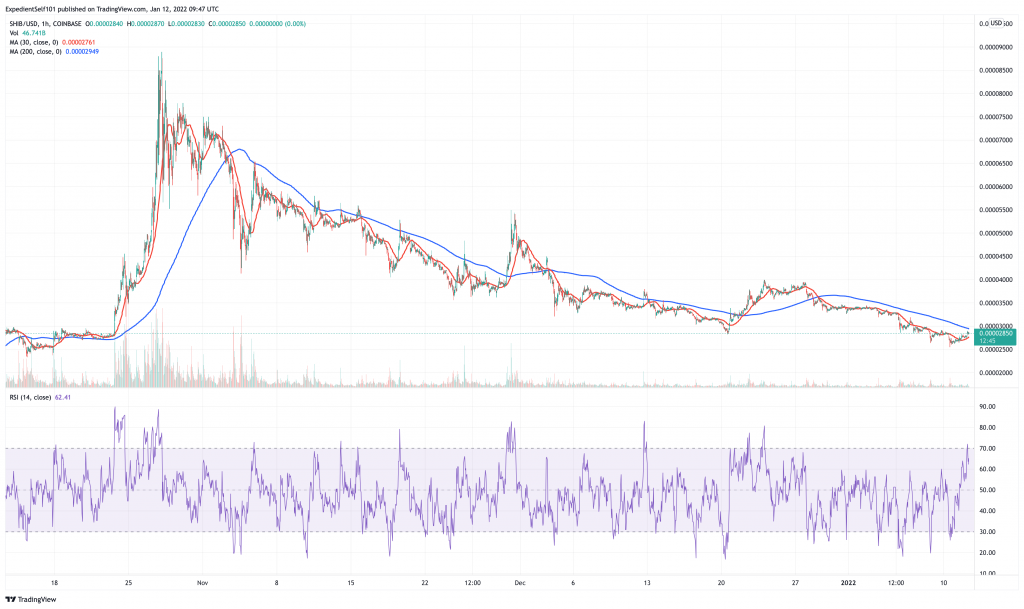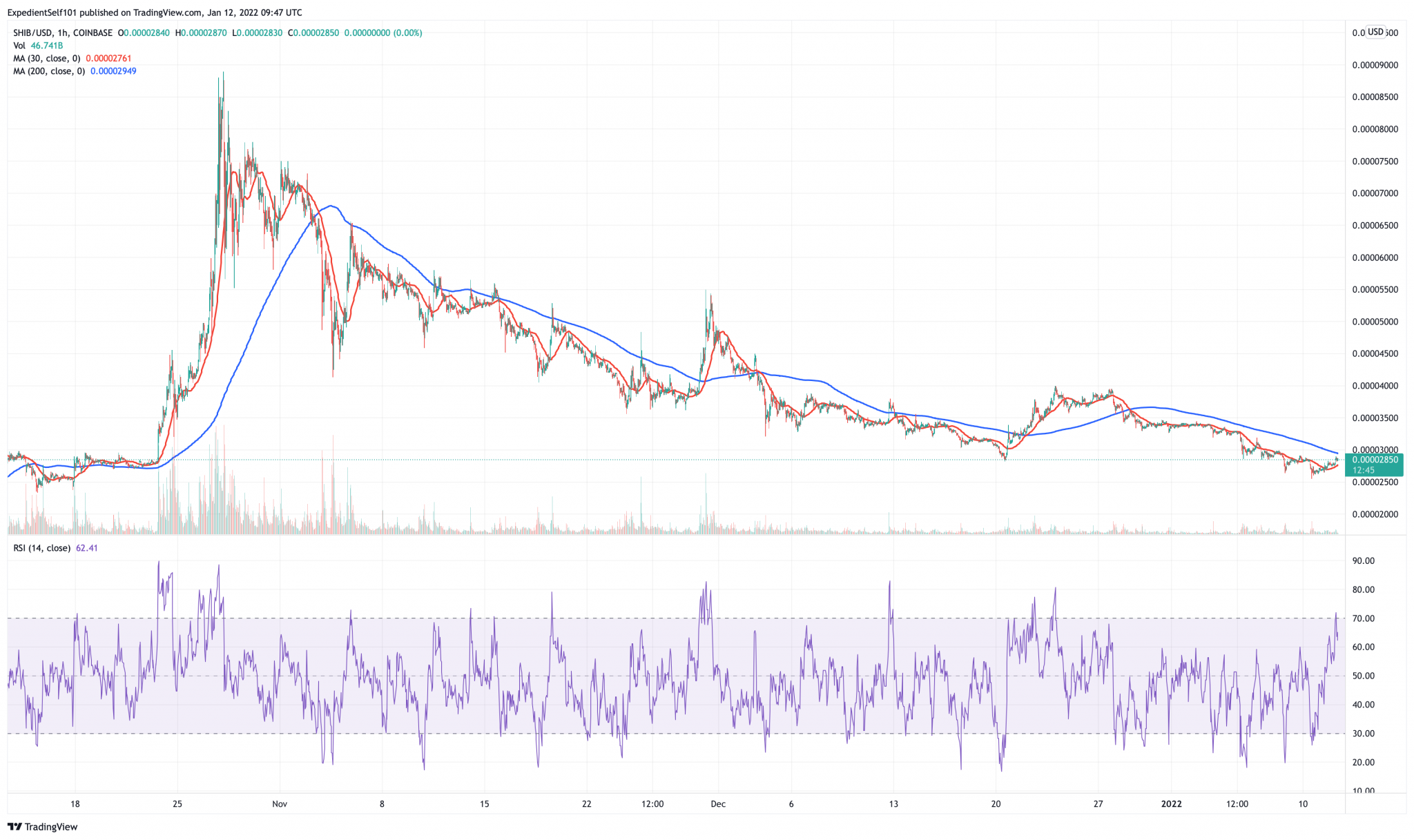 SHIB's chart over the past three months is also pretty close to DOGE's. Its 30-day average has more or less been on a downwards slope ever since the end of October. This would suggest that it's due a surge anytime soon. Of course, with the market undergoing something akin to a bear market, we can't be sure of this. But under normal circumstances, its 30-day average would suggest an incoming breakout at some point. Likewise, its rising RSI also suggests good momentum.
As with DOGE, SHIB has a legion of committed followers and boosters. Its Reddit page now counts around 460,000 subscribers, up from 200,000 in early August. Its official Twitter account also has 2.5 million followers. On top of this, it also benefits from occasional endorsements and positive pieces of news. For instance, retailer Newegg announced at the end of November that it would be accepting payment in SHIB from early December onwards.
Hey #ShibArmy, how we looking on America's largest digital out-of-home billboard? @ShytoshiKusama #Shib

We'll be officially accepting @Shibtoken in by early December via @BitPay https://t.co/MR2ydiQpq6 pic.twitter.com/MyuxHSIjVw

— Newegg (@Newegg) November 30, 2021
More recently, Shiba Inu's developers have released the DOGGY DAO. This decentralised autonomous organisation will be responsible for deciding which projects and trading pairs will be listed on Shiba's very own ShibaSwap exchange. By opening up the governance of the burgeoning Shiba Inu ecosystem to community participation, it should help drawing in more users and holders.
DOGGY DAO is here. Woof!https://t.co/5sEZX50Z1j

— Shib (@Shibtoken) December 31, 2021
3. Spell Token (SPELL)
At $0.01504688, SPELL is up by 6.6% in the past 24 hours. On the other hand, it's down by around 30% in the past week, but up 12% in the last 30 days.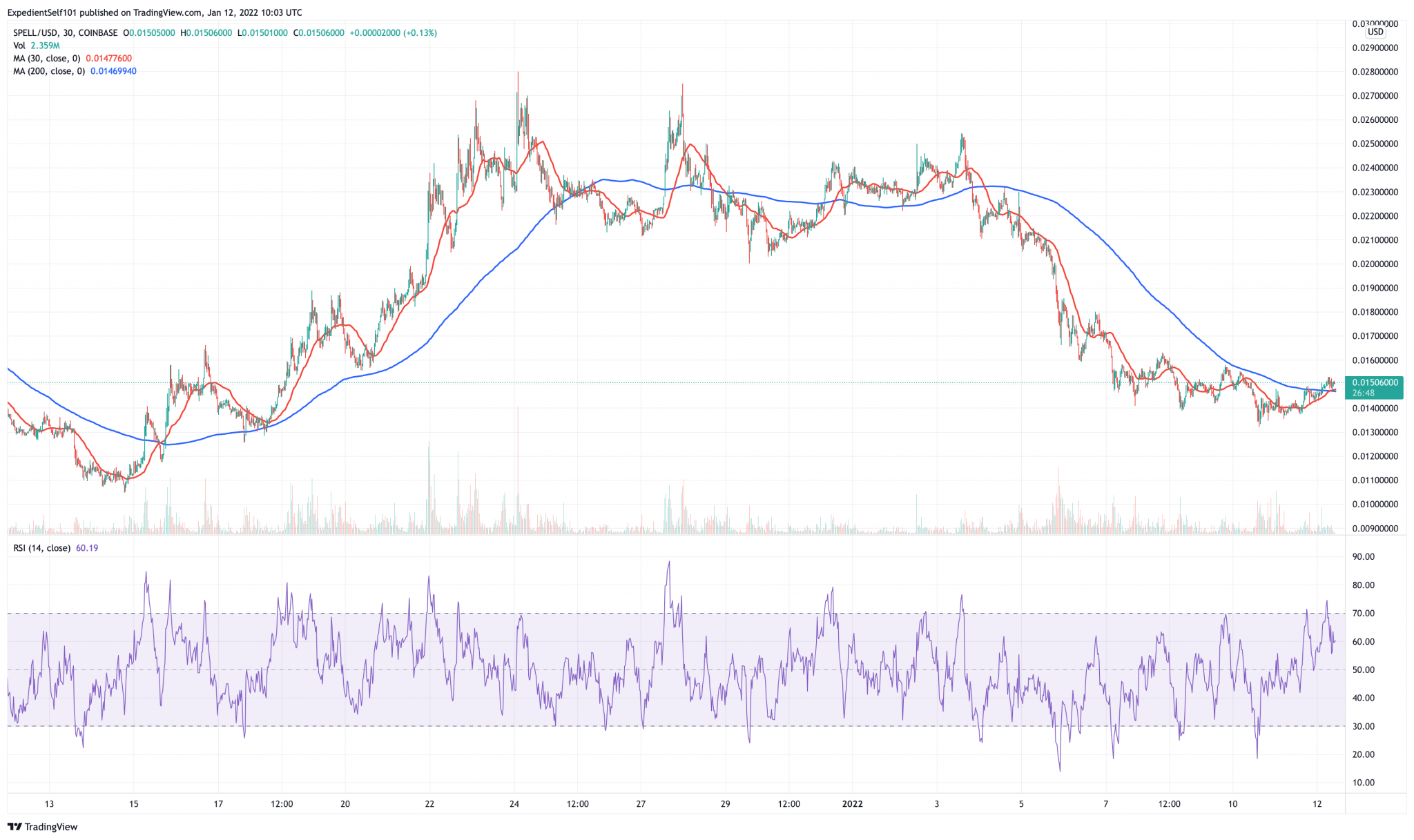 SPELL's 30-day average suggest that it may be about to pick up again after more than a week of decline.
SPELL is the governance token for the Ethereum-based Abracadabra.money DeFi platform. Users of this platform coin stake collateral in order to mint magic internet money (MIM), a stablecoin pegged to USD. Staking SPELL itself allows users to mint eSpell, which provides governance privileges and other rewards.
It's because of its 'magic-themed' native platform that SPELL is classed as a meme coin. However, Abracadabra currently boasts a total value locked in of $5.94 billion, up from $1.1 billion at the start of October. So it shouldn't be taken too lightly, which is why SPELL is one of our 5 next meme coins to explode.
4. Dogelon Mars (ELON)
ELON is $0.00000127 as of writing, meaning it posted a 4.5% rise in the past 24 hours. Unfortunately, it's down by 17% in the past week, but up by 4% in the last 30 days.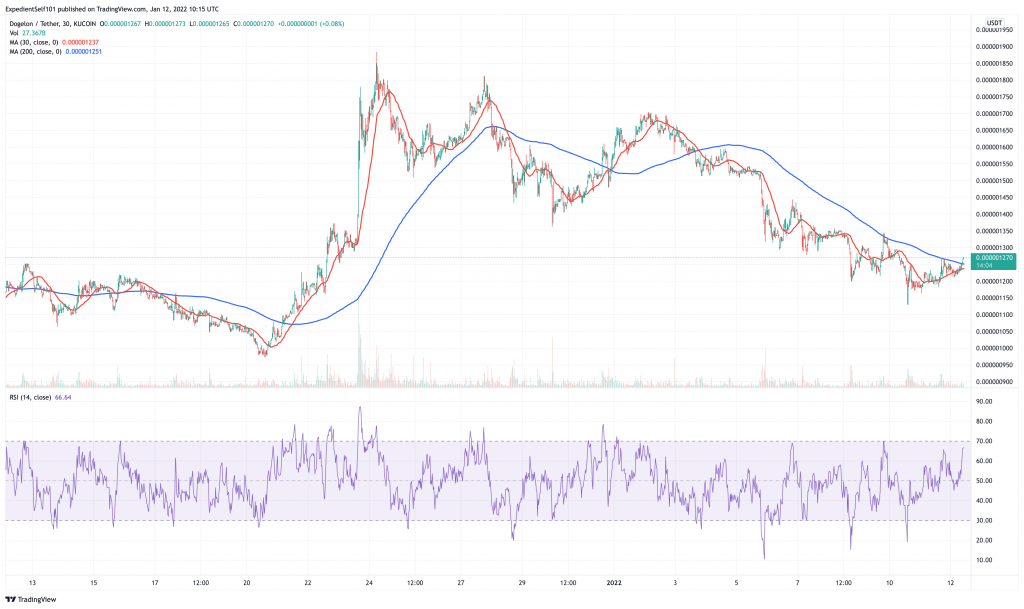 ELON's indicators suggest that it may be turning a corner. Its 30-day average has begun rising and looks set to overtake its 200-day average. Meanwhile, its RSI is nearing 70, revealing very strong momentum. This suggests that a little rally is underway, although under the current conditions, it's not certain how long it might last.
Dogelon Mars is a meme token launched only in April 2021. Since then it has accumulated 125,000 holders, testifying to the existence of a community which, while overshadowed by that of Dogecoin and Shiba Inu, is worth noticing.
🏆 New Record: $ELON reaches an astonishing 125,000+ holders.

Current Holder Count: 125,014

Source: https://t.co/keN3btSnKj#Dogelon #dogelonmars

— WhaleStats – the top 1000 Ethereum richlist (@WhaleStats) January 7, 2022
ELON has also done well in attracting listings on major exchanges, including Huobi, Gemini, Crypto.com, Kucoin and Gate.io. This suggests that, despite its relative size, it's growing quite quickly.
🔊 YOU asked, WE listened! 🔊$ELON @DogelonMars will be listed on Huobi! 👇

First 200 users to
🔹 Comment and share
🔹 RT your favourite meme of Huobi x $ELON to stand a chance to share 2000 USDT worth of $ELON #Airdrop!

Comment and fill in the form below! 👇

— Huobi (@HuobiGlobal) December 24, 2021
5. Baby Doge Coin (BABYDOGE)
BABYDOGE is currently priced at $0.000000003834, meaning it has risen by 4% in the past day. Unlike many other coins, it's also up by 35% in the past week and by 150% in the past month. It is, however, down by 35% compared to the all-time high of $0.000000005890 it set in July.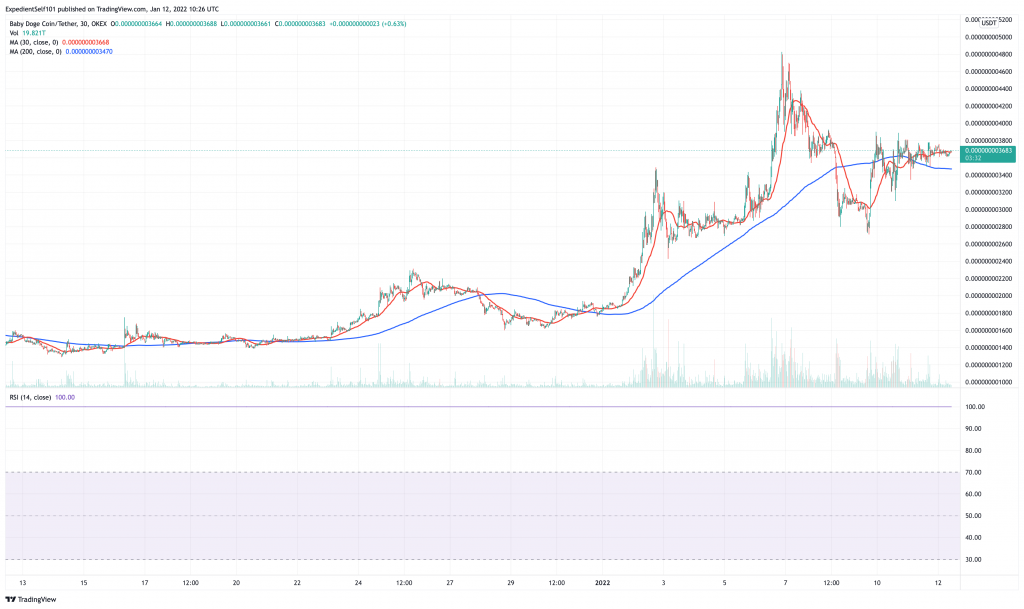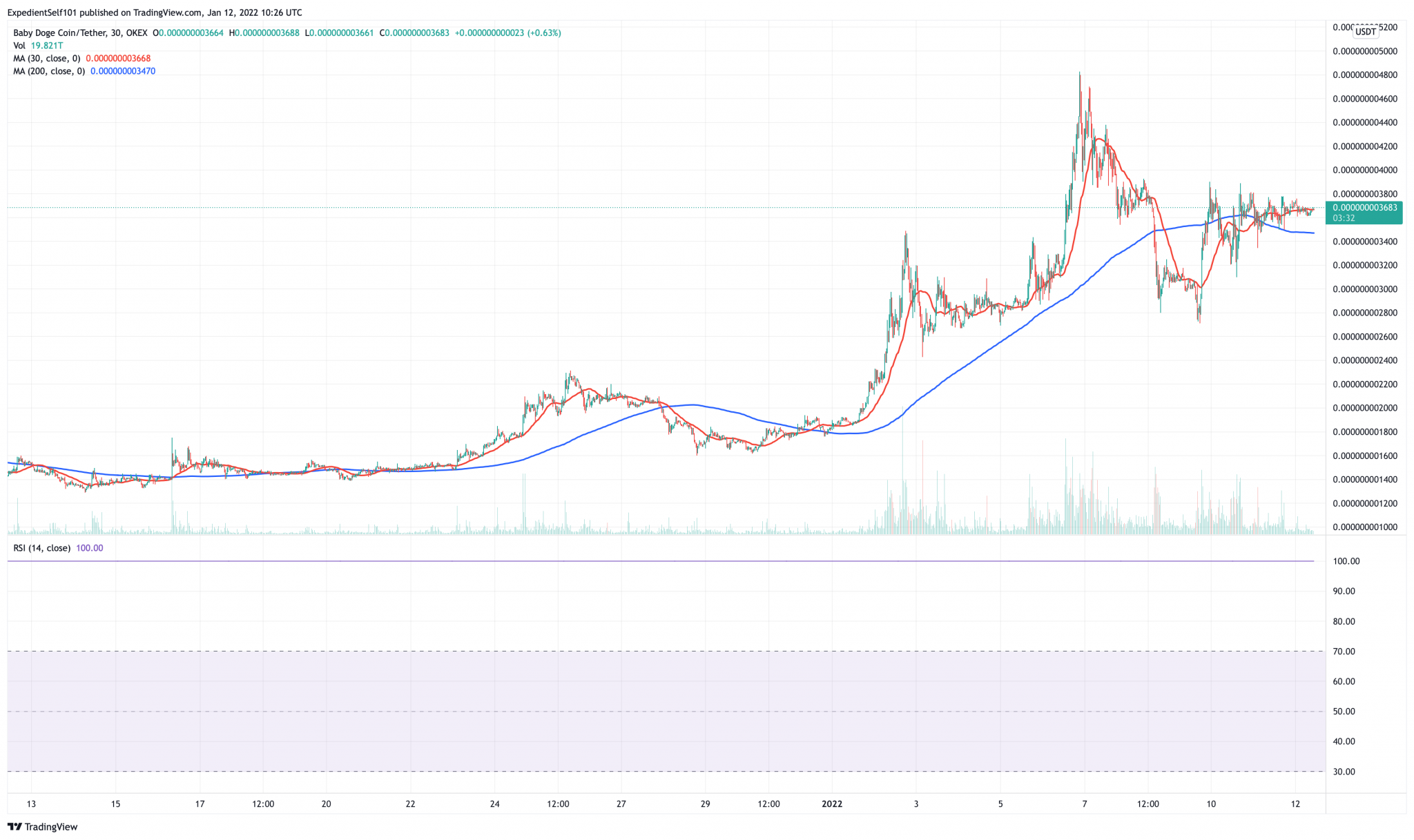 BABYDOGE's chart shows a steady overall increase over the past month. Its 30-day average formed a 'golden cross' with its 200-day a couple of days, suggesting that it may be in the process of another lift.
Launched in June, Baby Doge Coin is a meme token based on Binance Smart Chain. Unlike its namesake, Dogecoin, it has been designed to be deflationary. Specifically, it has a buyback mechanism that results in the burning of coins. So with a fixed max supply of 420 quadrillion BABYDOGE it should witness price appreciation over the long term, assuming stable or rising demand.
Wowowoww #BabyDoge has broken over 100 million in 24 hour trading volume 🤯 pic.twitter.com/m9fQFlZxS1

— BabyDoge (@BabyDogeCoin) January 7, 2022
Capital at risk
Read more:
How to buy cryptocurrencies
Where to buy Dogecoin
How to buy Shiba inu
Related: Coins Marketcap