Best Meme Crypto to Buy Now – January 2022
January 7, 2022 by CoinSurges
225
Meme coins have enjoyed a phenomenal 2021, and
Meme coins have enjoyed a phenomenal 2021, and this year is expected to be no different. Given the high returns that meme coins come with, investors are hunting for top meme crypto to buy now.
Get best and latest bitcoin news today with coinsurges.
Meme currencies like Shiba Inu and Dogecoin have dominated discussions, with business crypto enthusiast like Elon Musk frequently backing their favourites. Other dog-themed joke cryptocurrencies aren't far behind, since these digital assets have seen widespread adoption and utility, especially with the rise of the Metaverse.
Here are some of the top meme crypto to buy now if you are looking to invest in this digital asset niche.
1. Dogecoin (DOGE)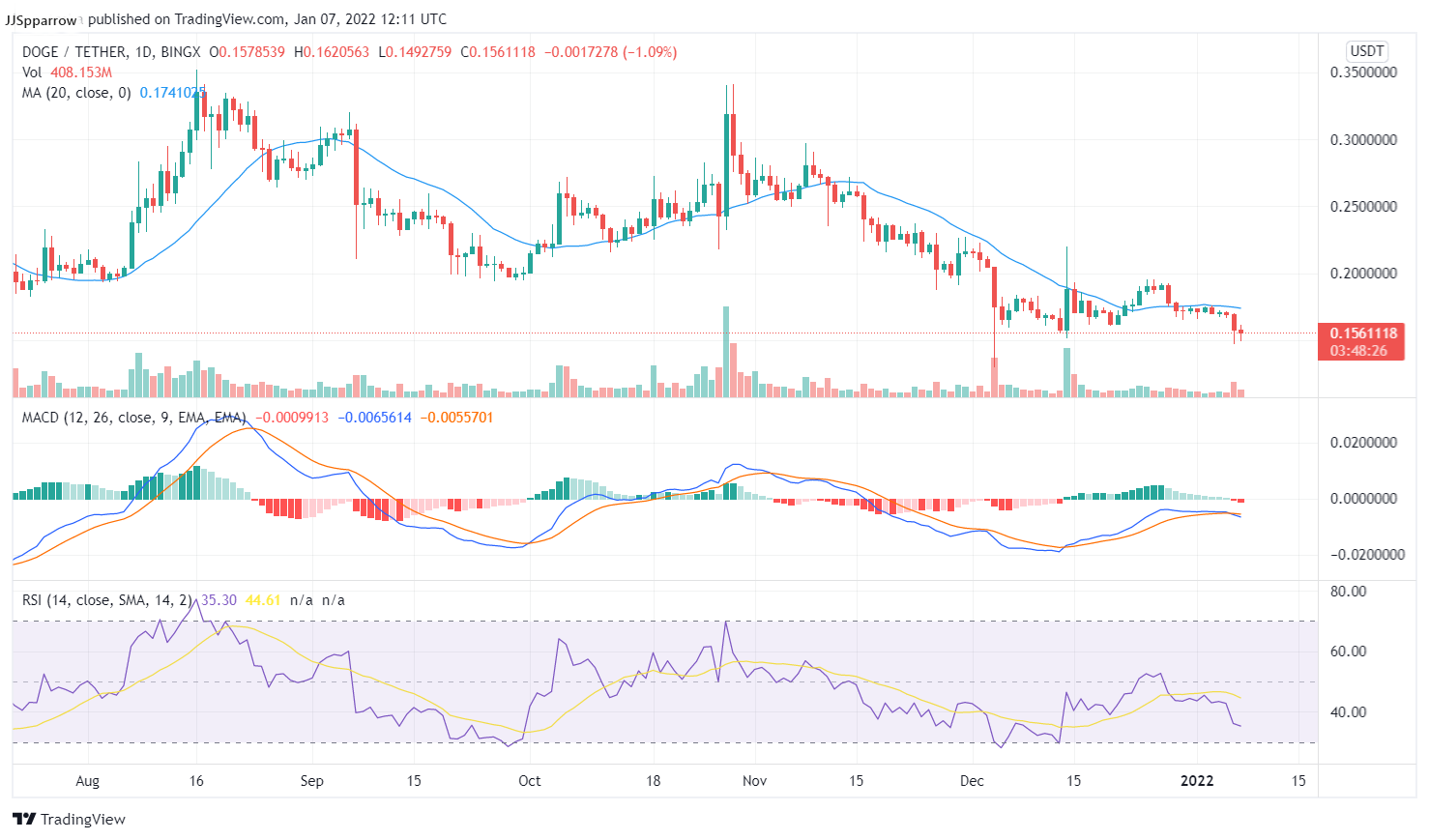 Dogecoin remains the number one investment option for investors looking to buy meme coins. Elon Musk, the CEO of Tesla and SpaceX, has backed the dog-themed cryptocurrency, which has experienced significant price surges in the previous year. Dogecoin now has a market capitalisation of $20.7 billion, up 0.28% in the previous 24 hours.
Note: Check breaking stories and Latest Cryprocurrency News with coinsurges.
The digital asset value increased by 1503.70% in the previous year, and analysts predict a significant price gain by the end of 2022. At press time, DOGE is trading at $0.1561, up by 0.26% in the last 24 hours.
As Elon Musk revealed in early December, Tesla will begin accepting Dogecoin as a payment option for some of its products. Dogecoin's price soared by double digits as a result of this statement. Investors are hopeful of another rally in price when this finally happens.
2. Shiba Inu (SHIB)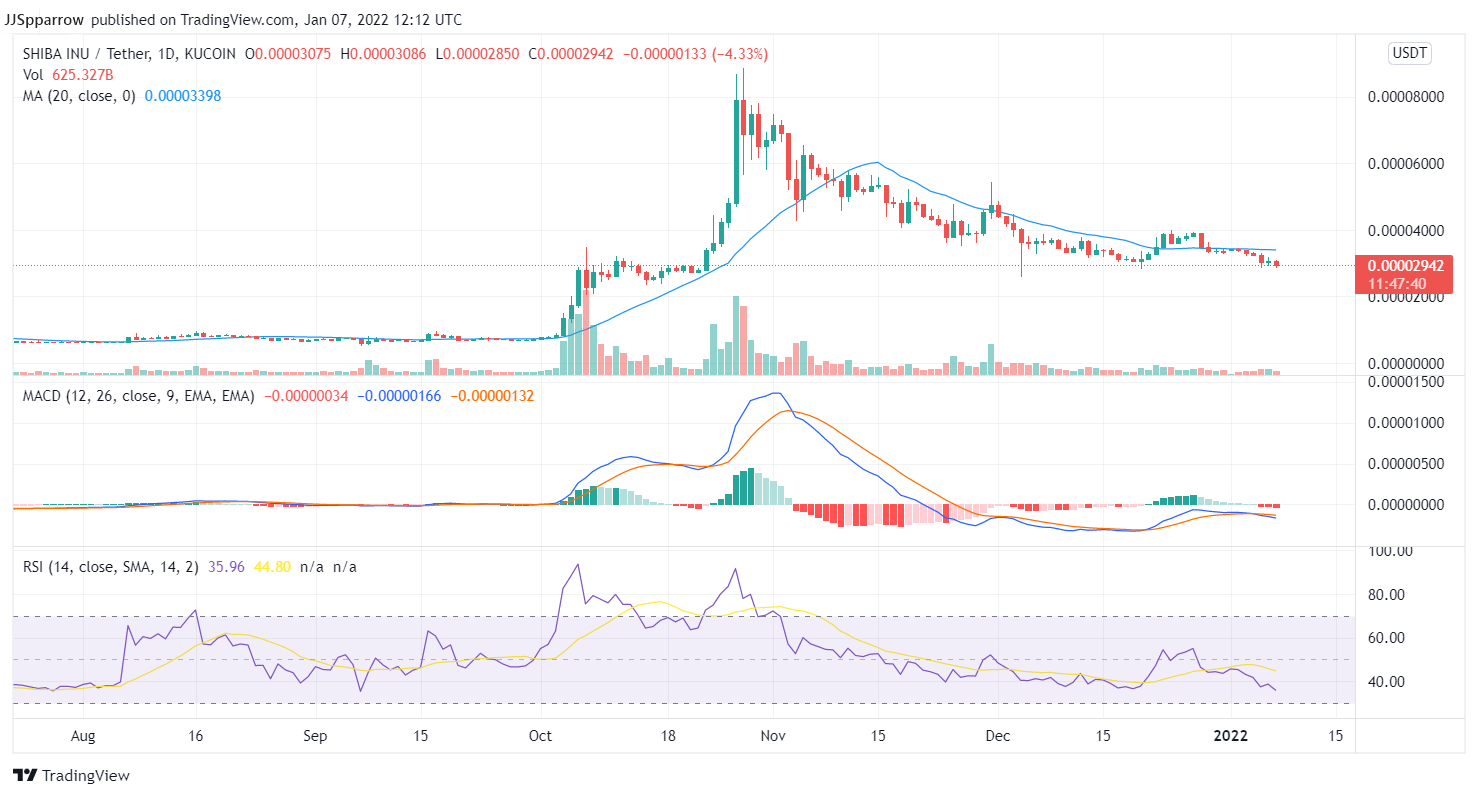 Related: Check Live price, charts, and trading for the best cryptocurrencies like Bitcoin, Ethereum, Shiba Inu, Dogecoin etc.
In 2021, Shiba Inu enjoyed exponential growth as the meme coin frenzy gathered steam. Many crypto analysts still expect this popular meme coin to return in 2022 positively. The ERC-20 token might reach $0.0001 in the next 12 months, according to CryptoPredictions.com.
In the last 24 hours, SHIB witnessed a 2.07% price drop to the $0.0312 price peg. However, this downward spiral is expected to revert following the announcement of a potential Bitstamp listing.
Bitstamp announced that it would be providing support for SHIB in the next few months. Shiba Inu being listed on Bitstamp has a big impact because SHIB could accomplish this functionality in less than two years after launching.
Bitstamp is more than just another trading platform; it's one of European investors' most trusted and user-friendly tools. Bitstamp is the largest cryptocurrency exchange in Europe, with 4.4 million users worldwide.
The Shiba Inu Utility token recorded a 1.88% drop in the asset's fully diluted market cap to $17.3 million. While the coin is currently running with the bears, investors are hopeful that the coin will turn the corner in the coming months.
3. Samoyed (SAMO)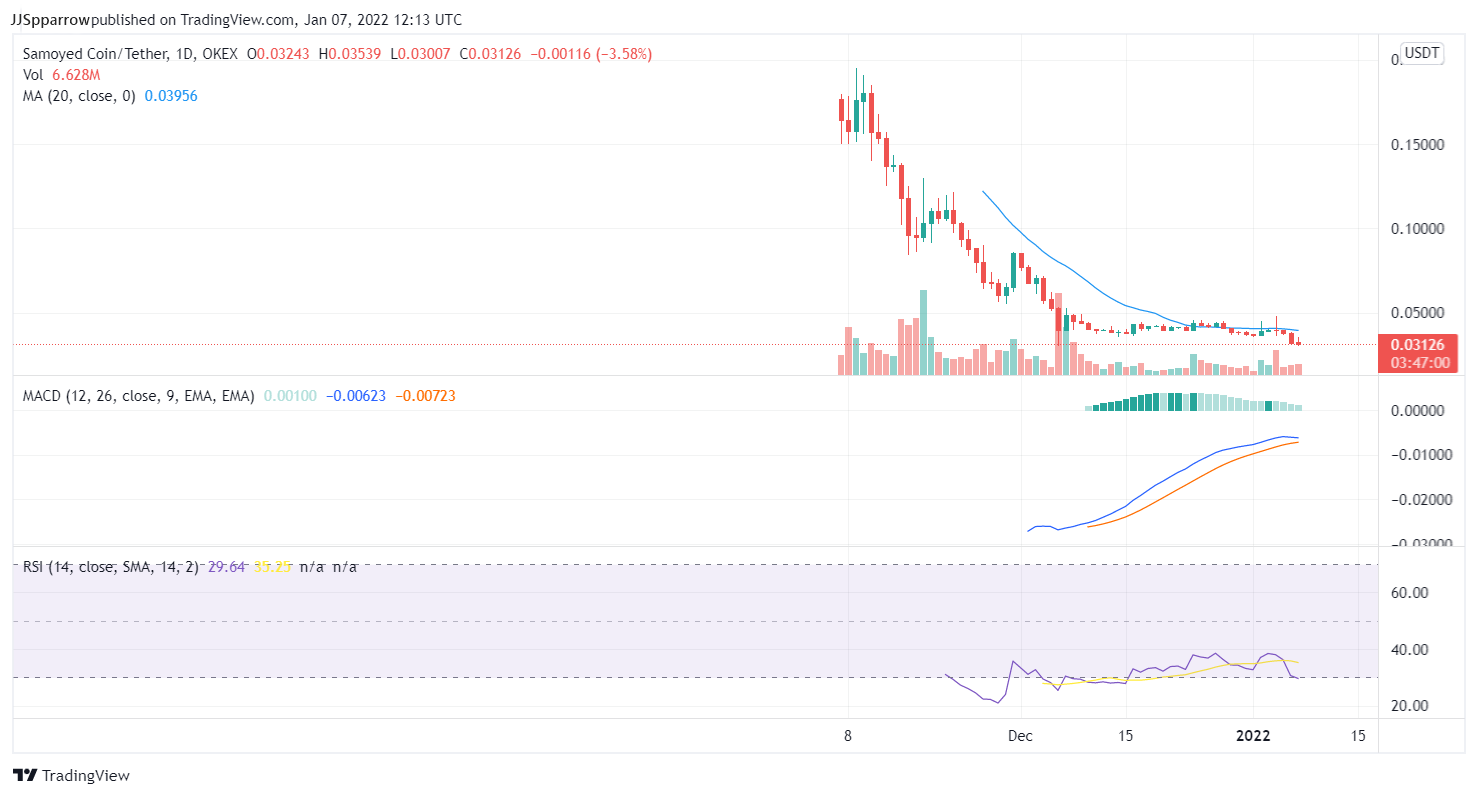 Samoyed Coin is another dog-themed cryptocurrency worth mentioning as one of the top meme cryptos to buy now. The SAMO token has witnessed significant growth in recent months and is based on the Solana blockchain.
The digital asset has cultivated a reputation thanks to the scalability of the Samoyed network and is currently trading at $0.03126 with a 4.06% decrease in the last day.
Samoyed founders are making great strides, with plans to introduce the Samoyed Academy later in the year. The Samoyed academy is an online platform where crypto enthusiasts can learn more about the industry and the Solana ecosystem.
The SAMO academy will provide high-quality educational material, tools and resources required by investors and traders to excel within the crypto ecosystem.
4. Dogelon Mars (ELON)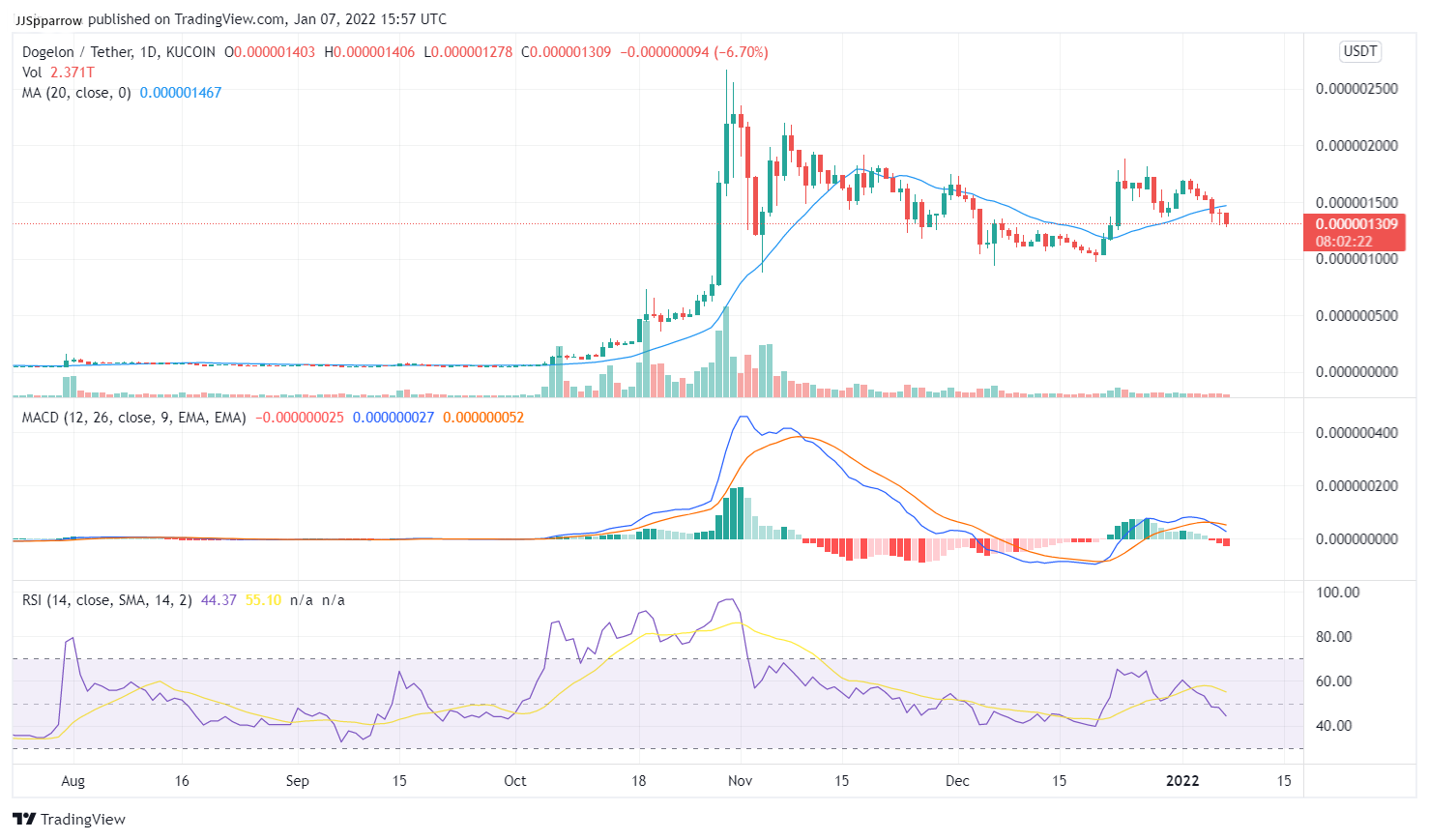 Dogelon Mars (ELON) is a meme coin inspired by Dogecoin (DOGE) and Tesla CEO Elon Musk. The digital currency had enormous price fluctuations in 2021, and some believe it still has room to grow. The ERC-20 token standard is used by this Ethereum-based project, which means it will utilise the Ethereum network for security while also adding its own unique features to the token.
At the time of writing, Dogelon is trading at $0.000001309, down 4.50% in the last 24 hours. ELON is currently on a strong bullish run, with its current price sitting well above the 20-day and 200-Day Moving average support prices.
The coin recorded a $30.4 million 24-hour trading volume, indicating a 9.36% drop in volume. The digital asset also experienced a 2.22% decline of its market capitalisation, placing current values at $1.33 billion.
The ERC-20 token gained popularity following the anticipated listing of the token on crypto.com. This listing followed the precedent set by Huobi and Gemini.
5. Safemoon (SAFEMOON)
SafeMoon is one of the most recent cryptocurrencies to emerge in 2021. This cryptocurrency concept is a decentralised financial system driven by the community. There are 585.536 billion coins in circulation after the initial introduction in the first quarter of 2021. The digital asset recorded a 24-hour trading volume of $3.2 million, down by 88.9%. However, the digital asset is trading with the bulls as the current price sits well above the 20-day Moving average support price of $0.00000005.
Safemoon is set to launch operation Phoenix. Operation Phoenix is a collection of initiatives that have come together to improve the Safemoon environment.
Wind turbines and nanotechnology are two of the technologies included in this initiative. By producing compact and super-efficient wind turbines, the technology is decentralising wind turbine energy technology. Safemoon's tiny turbines will aid in the decentralisation of wind turbine energy technology by allowing consumers to purchase and construct their turbines. It's a game-changing innovation.
Safemoon is also getting ready to launch its much-anticipated Safemoon Exchange. The digital asset's team has applied for a European Union (EU) e-money licence to improve exchange operations. In the second quarter (Q2) of the year, the Safemoon card, a critical product for the exchange's operation, will also be available.
Read more:
How to Buy Dogecoin – Invest with Low Fees Today
How to Buy Shiba Inu Coin – Invest with Low Fees Today
Related: Coins Marketcap