Splinterlands SPS Token: Next NFT to Explode For Huge Profits
January 5, 2022 by CoinSurges
107
Splinterlands is one of the most popular
Splinterlands is one of the most popular blockchain game in the crypto universe, but its price is yet to take off, which makes its SPS token an ideal target for savvy NFT and metaverse investors.
Get best and latest bitcoin news today with coinsurges.
Ranked at N0.3 on Dappradar and the most-played blockchain game for five months straight, Splinterlands is a card battle game that draws its inspiration from the likes of Pokémon and Magic the Gathering.
When collectible card trading went digital the ability to trade was lost but with blockchain technology and NFTs it is game-on again.
Splinterlands is built on the Hive blockchain, which is a hard fork from the Steem blockchain. Hive operates with a delegated proof-of-stake (DPoS) protocol.
Currently the main way in which players realise value (Play-to-Earn) is through amassing points by playing the game and in the process amassing any number of assets and achievements.
Note: Check breaking stories and Latest Cryprocurrency News with coinsurges.
Players can convert their Dark Energy Crystals (DEC) tokens, Splintershards (SPS) tokens, card booster packs, Land plots, skins etc into points.
Why the Splintershards SPS token could be set to rocket
The Splintershards team announced at the end of last year a number of important upcoming changes that will add value and greater utility to the SPS token. The SPS token is the governance digital asset of the Splinterlands ecosystem.
The main way in which players can earn SPS is through a claim on the daily airdrop of SPS tokens, which is awarded from the total pool in relation to the proportion of points they hold.
Related: Check Live price, charts, and trading for the best cryptocurrencies like Bitcoin, Ethereum, Shiba Inu, Dogecoin etc.
Although Splinterlands is free to play, to gain full access to all features users need to activate the Summoner's Spellbook at a cost of $10 (see screenshot below).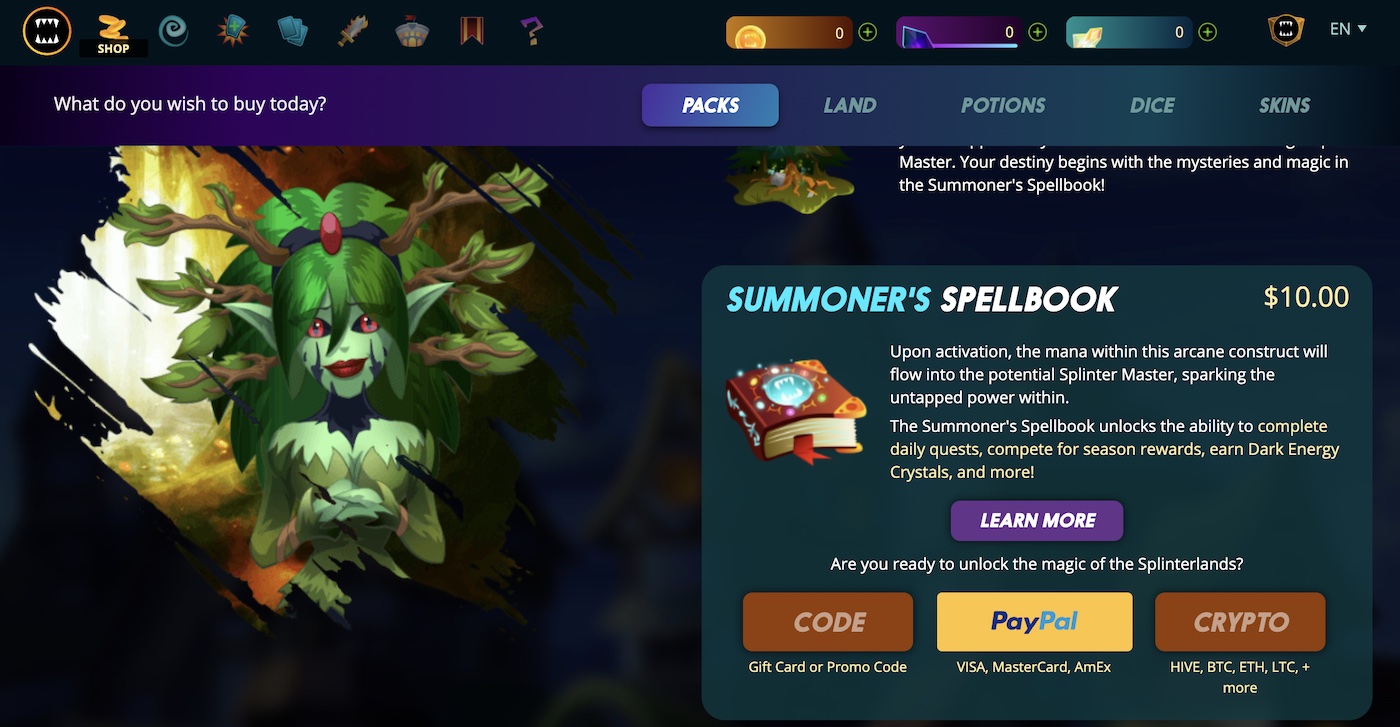 The airdrop continues until July 2022. 400 million SPS tokens (13.33% of the total token supply), is being airdropped to players based upon the amount and type of Splinterlands assets held in their account.
Earned SPS can also be staked on Hive and Binance Smart Chain for additional rewards.
The number of airdrop points each type of asset will be worth is detailed in the table below:

Asset

Airdrop Points

Collection Power (Owned Cards)

1

DEC Tokens

1

DEC in Liquidity Pools

2

Untamed Booster Packs

600

AZMARE Dice Booster Packs

900

Essence Orb Booster Packs

2,400

Beta Booster Packs

2,400

Alpha Booster Packs

4,800

Land Plots

10,000

Champion Points

10

Splintertalk Tokens (SPT)

0.25

Card Skins (C/R/E/L)

1,000 / 2,500 / 5,000 / 10,000

Totems (C/R/E/L)

1,000 / 5,000 / 25,000 / 100,000

Titles

100k (Untamed / Explorer) / 1M (Praetorian / Custom)
Splinterlands 2022 roadmap – expect a huge SPS price pump
In the first quarter of 2022 SPS validator nodes are being introduced to dramatically enhance the governance properties of the token. first quarter 2022.
All staked SPS token holders can vote for validators, with the top 10 validators by votes becoming the signatories on multi-sig wallets on both Hive and BSC – and potentially other chains in the future – that control the SPS foundation funds among other things, says a project blog on the matter.
Forthcoming changes will. mean that the Decentralised Autonomous organisation that runs the SPS Foundation will become fully controlled by token holders.
Network users will be able to vote on anything from relations with third-party Automated Market Maker protocols or deciding on whether to burn tokens, in addition to the rules and gameplay in Splinterland itself.
Here's a breakdown of what to expect from the Splinterland roadmap this year:
SPS Validator Nodes & Governance Voting
$4M+ non-SPS funds in treasury to be owned & controlled by staked SPS token holders
~$12M of Riftwatchers pack sales purchasable exclusively with SPS, all going to the SPS foundation treasury
Land expansion heavy reliance on SPS token staking
Private sale & airdrop distributions ending leading to over 53M fewer SPS tokens distributed each month
New reward pools to incentivize gameplay + SPS delegation
Currently priced at $0.2198, the SPS token is trading well below its all-time high at $0.7546 on 28 last year.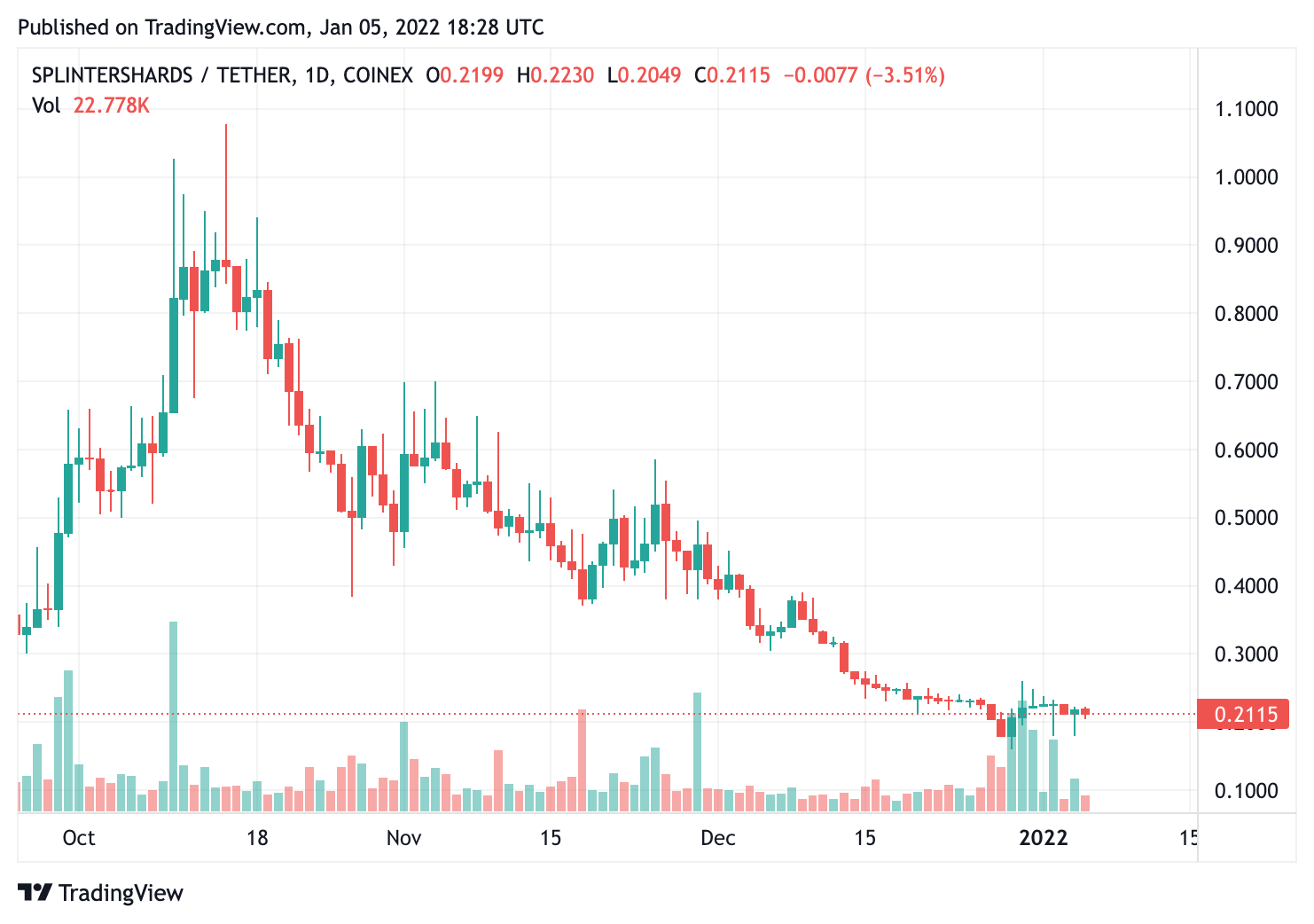 With the metaverse and NFTs were the breakout crypto themes of 2021 – and that is set to continue at pace into 2022.
Splinterlands is well-positioned to grab the limelight and the attention of investors, not to mention gamers who want to leverage their skills to earn SPS and take part in the decision-making of its DAO.
Last word goes to the Splinterlands team: "2021 was an amazing year for Splinterlands, but all indications are pointing to 2022 blowing it out of the water.
"We attribute much of the success of 2021 to the launch of the SPS token and to our amazing community of people all working and experimenting together towards the goal of creating one of the first player owned and controlled gaming experiences in the world!"
Where to buy SPS
You can use HIVE, BNB, ETH and USDT to buy SPS on a number of decentralised exchanges and on Gate.io.
Tribaldex / Hive Engine (HIVE)
PancakeSwap (BNB / BEP-20 tokens)
SushiSwap (ETH / ERC-20 tokens)
Gate.io (USDT)
Read more:
Buy NFTs
How to Buy NFTs
How to Make & Sell NFTs
Best NFT Marketplaces
NFT Stocks
Are NFTs a good investment
Looking to buy or trade Metaverse and NFT crypto now? Invest at eToro!
You capital is at risk
Related: Coins Marketcap