Avalanche Price at $93.08 after 12.6% dip – How to buy AVAX
January 6, 2022 by CoinSurges
219
The crypto market suffered a major dip on
The crypto market suffered a major dip on Thursday, with the entire market capitalization dropping by around 8% to $2.1 trillion. The market-wide sell-off has affected most coins in the market that are now trading in the red zone. One of the biggest losers during the past 24 hours is Avalanche (AVAX). Avalanche is trading at $93.08 at the time of writing after a 12.6% dip in 24 hours.
Get best and latest bitcoin news today with coinsurges.
AVAX price analysis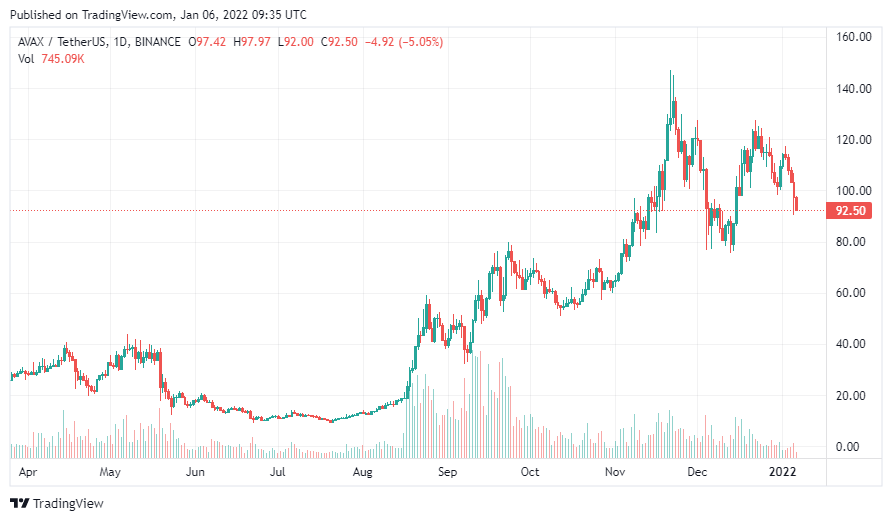 Avalanche was one of the best performing tokens during the last quarter of 2021. However, it is now leading the broader market in making losses. The double-digit gain made during the past 24 hours has placed the token 35.7% below its all-time high.
Avalanche could continue with the current dip if the broader market fails to show signs of recovery. Currently, there is increased selling pressure, which could lead to Avalanche testing lower support levels. The lowest level reached during the past 24 hours was $92, and this support could be retested again.
Further dips in the market could lead to Avalanche pushing lower towards the support levels of $90. Pushing below $90 could create an opportunity for traders to accumulate during the dip after being left out of previous rallies.
Note: Check breaking stories and Latest Cryprocurrency News with coinsurges.
On the upside, there could also be notable gains for AVAX if the broader market recovers. A recovery could push buyers towards buying more for profit-booking, triggering a recovery past $95. If AVAX recovers, the price target will be $100 and beyond.
Avalanche and the rest have dipped following news that the US Federal Reserve will increase the interest rates to deal with the rising inflation rate. This prompted a market-wide sell-off in both the crypto and the stock markets. The higher interest rates are expected to come into effect in Q1 2022.
Where to buy Avalanche
If you want to buy AVAX, you can create an account on the following platforms:
Related: Check Live price, charts, and trading for the best cryptocurrencies like Bitcoin, Ethereum, Shiba Inu, Dogecoin etc.
You can buy cryptocurrencies from eToro. eToro is one of the leading exchanges, and it supports a variety of cryptocurrencies and trading pairs. It also has a user-friendly interface.
You can also buy AVAX from Binance. Binance is the largest cryptocurrency exchange platform, supporting over 300 cryptocurrencies. Binance charges some of the lowest trading fees and offers user-friendly features.
Your capital is at risk.
Read more:
How to buy cryptocurrencies
How to buy avalanche
Related: Coins Marketcap